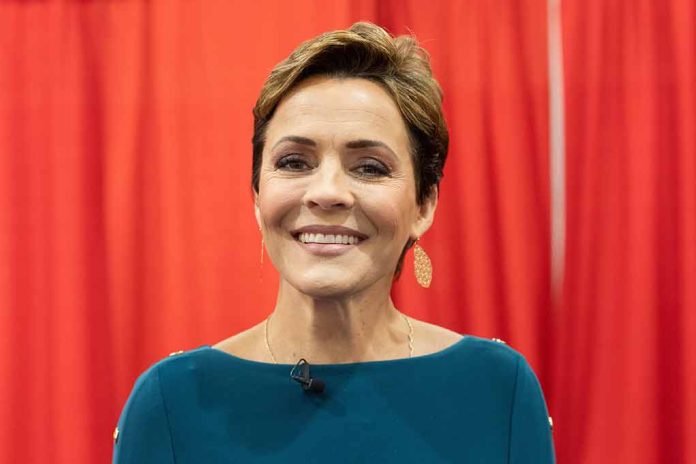 (RepublicanReport.org) – In early October, Kari Lake announced her bid for incumbent Senator Kyrsten Sinema's seat (I-AZ) in the upcoming 2024 general elections. The former television anchor lost her 2022 effort to defeat then-Arizona Secretary of State Kathleen Hobbs (D) to become the state's new governor. She lost by less than 18,000 votes and filed several unsuccessful lawsuits contesting the election's result. She recently faced some tough questions regarding Donald Trump and her election denial.
On November 12, Showtime aired a brief interview with Lake conducted by "The Circus" series guest host Tim Miller for the Season Eight finale episode. The former communication director for Jeb Bush's failed 2016 presidential campaign pressed Lake over her ongoing support for Trump and her continued claims the 2020 election was stolen.
The clash between Miller and Lake peaked when Miller suggested her campaign effort would benefit if she spoke out more about voter concerns and less about devoting her political brand to defending Trump's election claims. Miller mentioned Lakes' self-professed concern about the nation's current financial crisis.
"I care deeply," Lake responded.
Miller suggested she could "actually do something about it" if she quit spewing "bull***t about the last election." He also claimed her campaign would "probably be in good shape" if she "acknowledged" that she and Trump lost their respective elections and moved on to other matters.
Miller argued that Lake would likely have won her recent gubernatorial bid had she discussed topics voters cared about instead of "election fraud." He concluded his attack by rhetorically asking if she had ever wondered if she could "actually" discuss "stuff that is important" if she stopped talking about Trump's "fake" claim that the 2020 election was stolen from him.
The Circus on Showtime sent out a couple of clowns to interview me.

It doesn't have to be this painful for the Propagandists in the fake news.

We could have a great conversation if they would just ask honest questions about the issues that Americans are concerned about.… pic.twitter.com/mqGiTixFhO

— Kari Lake (@KariLake) November 12, 2023
Lake responded to the interview on her X/Twitter account by referring to Miller and series host John Heilemann as "a couple of clowns." She explained that they could have enjoyed the benefit of a "great conversation" if the cable network asked "honest questions" about her position on issues of importance to Americans.
Lake also included a link to her website detailing her position on those issues and the full interview.
Copyright 2023, RepublicanReport.org