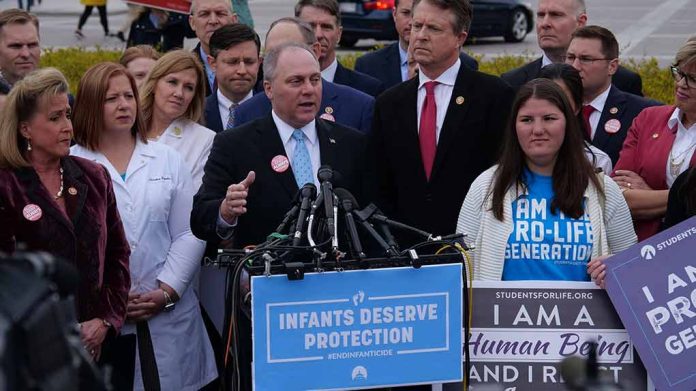 (RepublicanReport.org) – After former House Speaker Kevin McCarthy (R-CA) was ousted from his position, all business in the Lower Chamber came to a grinding halt. The GOP has been feverishly trying to decide on a replacement. On October 11, Republicans went behind closed doors to elect a nominee for House speaker. Between GOP Representatives Steve Scalise (LA) and Jim Jordan (OH), Scalise came out on top.
The next day, Scalise walked out of another closed-door meeting, telling the press he withdrew his name from the speaker running. The Louisiana representative only received 113 votes to win the nomination, but in order to win McCarthy's previous position, he would have to earn the support of 217 GOP House members. Scalise could not garner the number of votes he needed to win, so he decided to bow out and join the continued search for the next speaker.
On October 13, House Republicans headed back into a meeting away from the public's prying eye to decide who would run for House speaker in lieu of Scalise. This time, Jordan won the nomination with 124 votes against Representative Austin Scott (R-GA), who earned 81. However, the Ohio legislator still faces the same challenge as Scalise to win the gavel. Jordan needs to keep those 124 votes and convince 93 more to vote him into position. Instead of taking the matter to the floor, the Lower Chamber broke for the weekend, leaving the House non-functional until next week.
Several legislators have indicated they will not vote for Jordan. The rep can only afford to lose four Republican votes. Representative Ann Wagner (R-MO) called Jordan's efforts a "non-starter." Representative Michael McCaul (R-TX) said Republicans are playing a "dangerous game," and the country's "adversaries are watching." House Minority Leader Hakeem Jeffries (D-NY) said Democrats were willing to work with "traditional Republicans" to come to a bipartisan solution to the speakership problem.
Copyright 2023, RepublicanReport.org