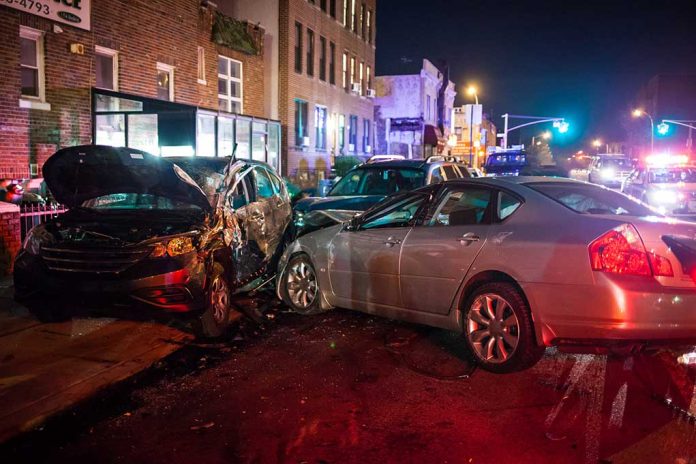 (RepublicanReport.org) – One thing that makes American communities great is the willingness of individuals to act as "Good Samaritans" or go out of their way to help others. Unfortunately, this kind of selflessness doesn't always receive the rewards it should. For three helpful people in Texas last week, their kindness brought deadly consequences.
A speeding vehicle crashed into a parked car in a residential area in San Antonio, Texas, at around 10 P.M. on Wednesday, August 11. The driver of the parked car approached the offending vehicle to try to help, as did two individuals living nearby. At this point, the woman driving the crashed vehicle emerged with a gun in hand and began shooting at the people coming to her aid.
The shooter, reportedly in her 20s or 30s, managed to hit all three of her targets. Hector Garza, 48, who was in the parked vehicle the woman collided with, later died of a head wound in hospital. The other two victims, a teenaged boy and a woman in her 50s, reportedly went to the hospital with critical injuries.
Luckily, another neighbor emerged with a firearm and shot the woman before she could cause further harm. She died at the scene.
Speeding driver crashes into parked car at high speed. Three neighbors come to driver's aid. Driver shoots all three, killing one. Fourth neighbor arrives to help and shoots driver dead. Texas. https://t.co/ByvjKxewbb

— Fark (@fark) August 13, 2021
Authorities are not sure why the woman opened fire on the innocent bystanders or how she crashed her car in the first place. However, the story serves as yet another example of the importance of the Second Amendment; had the fourth neighbor not been present and armed, who knows how the situation would have ended?
Copyright 2021, RepublicanReport.org