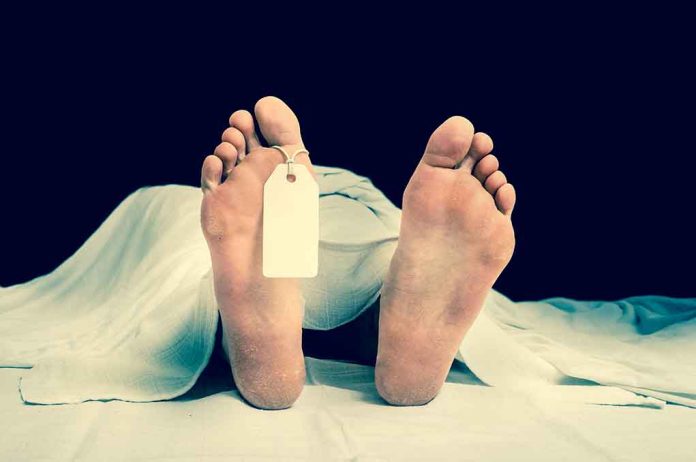 (RepublicanReport.org) – Nearly a year ago, police were responding to a criminal complaint when they discovered a severed head in the basement of a home. Authorities charged a woman in connection to the case with murder. She recently attacked her defense attorney during a court hearing.
WATCH: Murder and dismemberment suspect Taylor Schabusiness attacks defense attorney in court. https://t.co/IKxjcjqGw2 pic.twitter.com/G6uhzfdH07

— WBAY-TV 2 (@WBAY) February 14, 2023
Taylor Schabusiness, 25, is in custody and facing charges of first-degree homicide, sexual assault, and mutilating a corpse after allegedly killing, sexually abusing, and dismembering 25-year-old Shad Thyrion, according to the criminal complaint. Schabusiness had stashed her victim's body parts all over the house, including the severed head, which police found in a bucket.
The judge presiding over her case, Thomas Walsh, was hesitant in agreeing to postpone Schabusiness's trial so she could undergo a psychiatric evaluation. The suspect has pleaded not guilty for reason of insanity, and the assessment would confirm whether or not she's competent enough to stand trial.
Shortly after Walsh reluctantly agreed, her attorney, Quinn Jolly, asked for an additional two weeks to allow his client to undergo the psychiatric test to determine her competency. Schabusiness then attacked him.
Police quickly reacted to the situation and neutralized the suspect. Following the attack, Schabusiness asked police what happened, and they explained she had gone crazy on her attorney.
After authorities cleared the courtroom and some time had passed, discussions about rescheduling the suspect's competency hearing and trial resumed. The judge moved the hearing to March 6, and she's expected to go to trial on May 15. Jolly also filed a motion to withdraw from the case, but the judge didn't rule on that matter.
According to Fox 11, a local news agency, Schabusiness admitted to using drugs with her victim and engaging in sexual activity before strangling the 25-year-old. The suspect then sexually assaulted the corpse before dismembering it. She is in custody, and authorities are holding her on a $2 million bail.
Copyright 2023, RepublicanReport.org