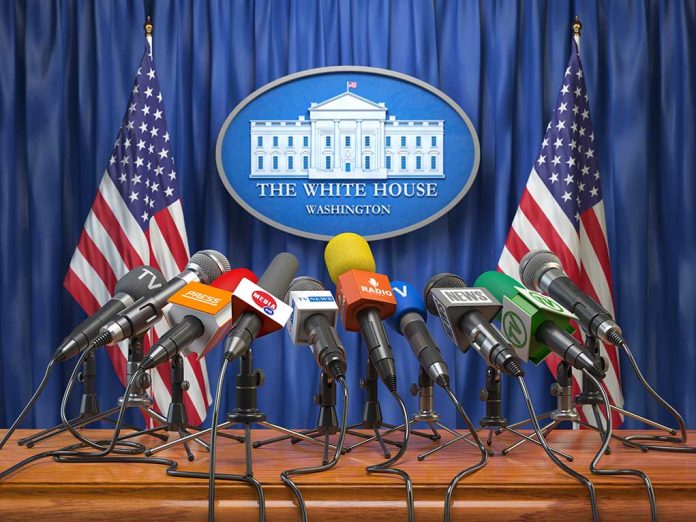 (RepublicanReport.org) – On May 5, the White House Press Office announced new rules that will apply to reporters who attend or want to attend press conferences. All journalists who hold press passes will have to reapply for new ones by the end of July. In addition, the office explained that the White House expects all journalists to act professionally during press conferences by "respecting…colleagues, White House employees, and guests," per the New York Post. Any violators will receive a written warning, and repeat offenders could lose access to such events.
Chief White House Correspondent for Today News Africa, Simon Ateba, took personal offense to the new rules, claiming on Twitter that the guidelines were targeted directly at him. The journalist posted the full White House email on social media, stated his credentials and commitment to attending briefings, and stated the rules change was "crazy."
BREAKING: The @WhiteHouse is changing the rules for press hard passes to target me. But I qualify for all those things as we just filed our taxes, are registered with the District of Columbia and have our address in DC. I studied journalism in college, received two degrees, have… pic.twitter.com/NMvVF4WSaC

— Simon Ateba (@simonateba) May 5, 2023
According to the press office email, hard passes will now require an annual renewal. Each applicant must meet certain requirements, including full-time employment with the new outlet, a physical address in the Washington, DC, area, meeting certain accreditation parameters, an assignment to regularly cover the White House, and having "accessed the White House campus" a minimum of one time during the previous six months in a professional capacity. The letter must have a photograph of the reporter and pass an updated background check. As for decorum, reporters who don't act professionally could lose their pass after a warning but have an "opportunity to respond" to that determination.
According to the New York Post, a White House official said the new rules have been in the works for over a year, indicating the changes had nothing to do with Ateba, specifically. If any journalist has a question or an issue with the changed requirements and parameters, the official said they have almost three months to apply for new passes and contact the press office with any concerns or inquiries about the policy.
Do you think the changes are because the press office wants to protect the president during press conferences? How do you think this will affect the upcoming election season?
Copyright 2023, RepublicanReport.org