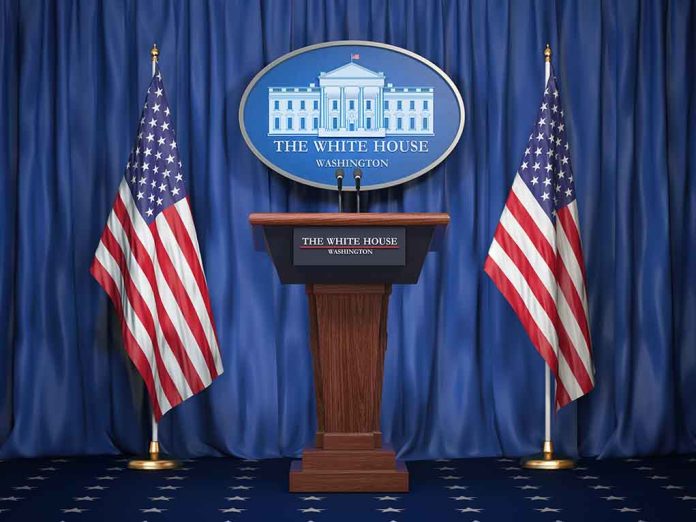 (RepublicanReport.org) – Fox News' Tucker Carlson has become a controversial character after Speaker of the House Kevin McCarthy (R-CA) granted him exclusive access to over 40,000 hours of security footage from January 6, 2021. Carlson then reported on the tapes, claiming there was no so-called insurrection. The host's take on the January 6 riot has put him in hot water as he catches criticism from Democrats and Republicans alike. Now the White House is slamming the Fox News host, claiming he's "not credible."
Countering Carlson
During his prime-time show this week, "Tucker Carlson Tonight," the host aired previously unseen footage from the riot, which he described as "mostly peaceful chaos," according to The Hill. White House Press Secretary Karine Jean-Pierre countered Carlson's narrative. She said that the White House agrees with Capitol Police and the lawmakers who have pushed back on Carlson's depiction of the January 6 incident. She also cited Fox executives who have said that Carlson isn't a credible source of news.
The remarks Jean-Pierre was referring to came from the $1.6-billion defamation lawsuit that Dominion Voting Systems filed against Fox News. Dominion claims the network knowingly aired, and therefore spread, lies about the company. During his deposition, the Senior Vice President of Fox News, David Clark, claimed that hosts like Carlson and Sean Hannity weren't credible sources for news.
In the Name of Transparency
While the Biden Administration has been careful not to criticize Fox News too harshly in the past, it has clearly taken issue with Carlson's portrayal of the Capitol riot. However, the host continues to defend his coverage of the footage, claiming it's all about transparency.
Senate Majority Leader Chuck Schumer (D-NY) criticized Speaker McCarthy for providing Fox News with the footage, claiming the California Republican is helping the network fuel conspiracy theories. McCarthy defended his decision to release the videos, saying that it was done for transparency, claiming he didn't regret his decision.
In response, Carlson has defended his decision to air the footage, also saying that it was needed for transparency. Reuters reported that he argued only a small number of those who entered the Capitol illegally were "hooligans," adding that the majority of demonstrators were peaceful.
Lawmakers on both sides have expressed their dismay at the way Carlson presented the never-before-seen footage. The debate over the events of January 6th is likely to continue, as more information comes to light and different perspectives are aired. However, that's not what legislators want; even a majority of the Republican party simply wants to move on.
Copyright 2023, RepublicanReport.org