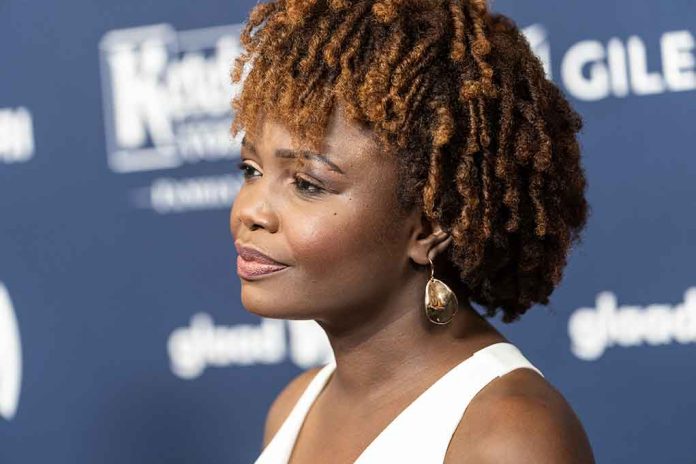 White House Reports "EXTREME THREAT" During Press Conference
(RepublicanReport.org) – Over the last number of years, an increasing number of political commentators have come forward to express concerns about the extreme division between representatives of the two major parties. Comments from the White House over the last few days have reignited this conversation.
On Wednesday, August 31, White House Press Secretary Karine Jean-Pierre referred to "MAGA Republicans" as "an extreme threat to our democracy… freedom, [and] rights" while talking to reporters. She went on to say that supporters of former President Donald Trump did not respect the law or the rights of their fellow Americans.
Karine Jean-Pierre says that people who voted for Donald Trump are "a threat to our democracy, to our freedom, to our rights." pic.twitter.com/8e2fXP2sD7

— John Cooper (@thejcoop) August 31, 2022
Jean-Pierre's remarks followed comments in a similar vein by President Joe Biden. During a campaign event in Wilkes-Barre, Pennsylvania, the president made a disparaging reference to "brave, right-wing Americans" who support the Second Amendment because of the preceived threat of government tyranny. He said any attempt to fight the US military would require "an F-15… something a little more than a gun."
NOW – Biden: "For those brave right-wing Americans… if you want to fight against the country, you need an F-15. You need something little more than a gun." pic.twitter.com/ce3BJEEo7G

— Disclose.tv (@disclosetv) August 30, 2022
That's not all. The week before Biden's Pennsylvania speech, while addressing donors in Maryland, he stated the MAGA philosophy was akin to "semi-fascism."
What do you think of these statements by American leaders and government workers? Do you agree, or do you think they went too far?
Copyright 2022, RepublicanReport.org