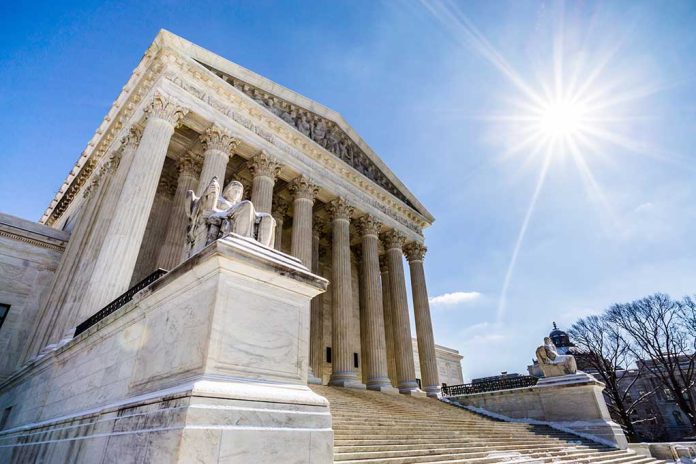 (RepublicanReport.org) – Since Amy Coney Barrett replaced the late Ruth Bader Ginsburg on the US Supreme Court bench, there has been much speculation about the 6-3 conservative majority on the nation's highest court. People are especially curious to find out how it'll affect hot-button issues like gun control, abortion rights, and immigration. As the 2021-2022 SCOTUS term progresses, the court should reach verdicts in pivotal cases in these areas.
Dobbs v. Jackson Women's Health Organization
This high-profile case out of Mississippi could overturn the precedent of Roe v. Wade, changing the rules around access to abortion across the United States. Currently, states cannot prevent women from accessing terminations before roughly 22 weeks of pregnancy. If SCOTUS upholds the Mississippi law at issue here, the limit could fall to 15 weeks.
The court heard oral arguments in this case on December 1 and will reach a verdict sometime in the new year.
New York State Rifle & Pistol Association Inc. v. Bruen
The state of New York currently has some of the most restrictive rules in the country when it comes to concealed carry. This case could change it. SCOTUS heard oral arguments in this case in November but won't reach a verdict until the new year.
Right now, if a person wants to obtain a license to carry a firearm in the state, the person needs to demonstrate a particular need to do so. This need must be greater than an ordinary desire to protect oneself from everyday threats. The plaintiffs, in this case, are challenging the law, as they feel it places undue obstacles in the way of Americans who want to carry weapons, thereby violating the Second Amendment.
United States v. Zubaydah
The defendant, in this case, Abu Zubaydah, is a former ally of deceased al-Qaeda leader Osama bin Laden. The Supreme Court, which first heard arguments in the case in October 2021, must consider whether the government's invocation of the state-secrets privilege in his case was valid. A lower court held it was not, and it's up to SCOTUS to decide whether the ruling should stand.
Garland v. Gonzalez
This case concerns two foreign-born noncitizens who have been in immigrant detention centers for over six months. They maintain they should not have to stay in custody any longer without a bond hearing. A federal district court ruled in favor of the plaintiffs, and the appeal is now before the Supreme Court.
So, it looks like 2022 is set to be a massive year for critical legal precedents. Stay tuned.
Copyright 2021, RepublicanReport.org