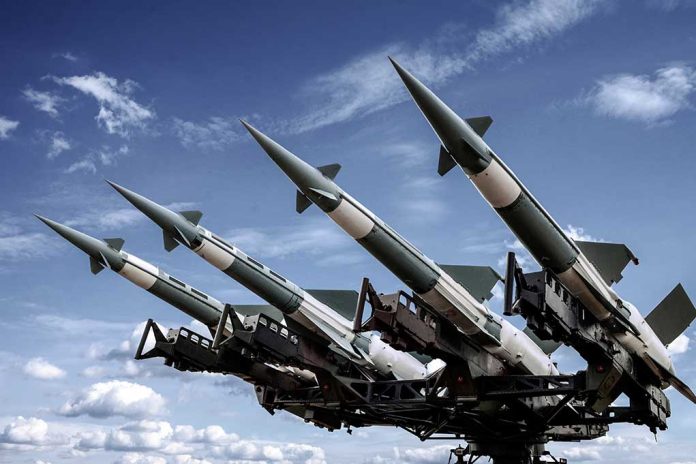 (RepublicanReport.org) – The war in Eastern Europe has been raging on for over a year now, with no signs of slowing down anytime soon. Negotiations between the two sides fell apart months ago. Russia recently launched another missile attack against Ukraine, its second in recent days.
According to the Associated Press, the recent attack took place at 3:45 a.m., before the sun came up on May 1. Air raid sirens blared throughout the capital city of Kyiv as the nation's air defenses intercepted several incoming Russian missiles. Valerii Zaluzhnyi, Commander-in-Chief of the Ukrainian Armed Forces, mentioned that of the 18 Russia fired from the Caspian and Murmansk regions, air defenses shot 15 of them down. None of them hit the city, but some did cause damage in Pavlohrad. Additionally, the attacks killed two and injured 40 others in the area. Regional authorities also reported damage to two dozen apartment complexes, nearly 100 homes, five shops, and six schools.
Russia launches second pre-dawn missile attack on Ukraine in three days https://t.co/YOtA1bZDSf

— BBC News (World) (@BBCWorld) May 1, 2023
Serhii Popko, head of Kyiv's city administration, mentioned that Ukrainian forces also shot down some drones during the attack; however, he didn't go into further detail.
The recent barrage comes after another one that took place on Friday, April 28, the first Kyiv faced in two months. That time, Russian forces launched 20 missiles. Several projectiles hit Uman, damaging an apartment building and killing 21 people; among the deceased were three children.
The attacks follow news of a potential Ukrainian counteroffensive. Vladimir Rogov, a Russian-installed official in the Zaporizhzhia region, detailed how the moves would hamper Ukraine's counteroffensive, explaining the missiles hit fuel and ammo depots.
Herman Haluschenko, Ukraine's Minister of Energy, mentioned that the nation's energy infrastructure also suffered damage in the attacks and would take at least several days to fix. In the meantime, tens of thousands of residents of Kherson and the surrounding area were without power.
Copyright 2023, RepublicanReport.org