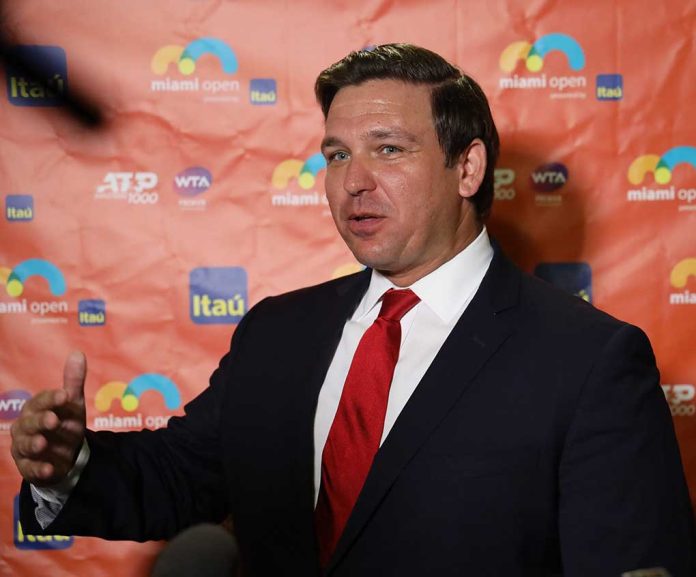 Ron DeSantis Surprises Audience at Music Concert
(RepublicanReport.org) – Country singer Luke Bryan's "Raised Up Right" tour couldn't go on after Hurricane Ian. The show in Jacksonville, which was postponed several times since the storm, finally went on, and the crowd got a special treat. Along with their long-anticipated concert, they also got a special guest appearance from Governor Ron Desantis (R).
Thanks for letting me crash the party last night, @lukebryan! pic.twitter.com/GCuTELFOM9

— Ron DeSantis (@RonDeSantisFL) October 29, 2022
On October 28, Bryan announced DeSantis to his fans, who welcomed him with open arms. The often polarizing governor set aside his politics after Ian, traveling the state and offering comfort to all Floridians regardless of their affiliations. When the governor took the stage, the appreciation from the crowd was unmistakable.
DeSantis just walked out on stage at Luke Bryan. It's deafening in here. pic.twitter.com/WHelgPCxM1

— Bonnie Upright, APR (@bonnieupright) October 29, 2022
The show was more than just a concert. Bryan announced that not only were they in for some fun, but they'd also raise a bunch of money for the Sunshine State and those affected by the hurricane.
DeSantis' arrival came with thunderous applause. The governor tossed hats to the crowd as they cheered. He then reminded them that no other state is quite as resilient as Florida. "Show me any other state that can rebuild bridges in three days," he said.
The governor did turn the tide toward politics, reminding the crowd to get out and vote if they want to keep living Florida's version of the American dream.
Copyright 2022, RepublicanReport.org