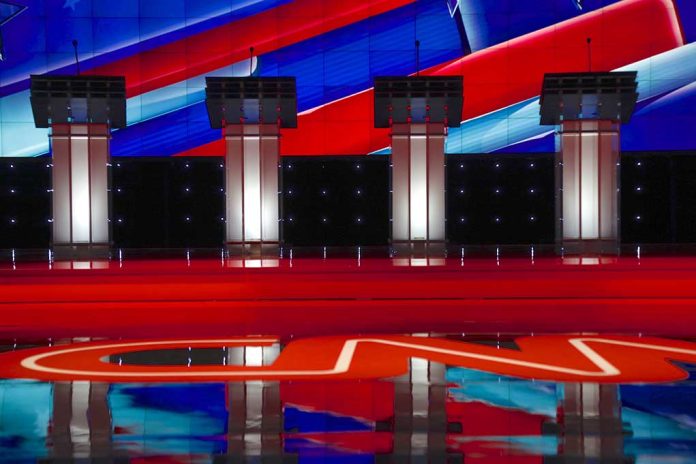 Democratic Candidate Flees Reporters By Ducking Into Bathroom
(RepublicanReport.org) – The race to replace term-limited Republican Doug Ducey as Arizona's governor is heating up. There's currently a lot of controversy over Democrat Katie Hobbs' refusal to engage in an open debate with Republican Kari Lake; Hobbs claims she doesn't want to square off against Lake in public because the Republican is a conspiracy theorist who will try to make the event into a publicity stunt. The Democrat recently appeared to run away from reporters who challenged her on her unwillingness to discuss policy.
While dining outdoors at a restaurant, Hobbs was approached by RC Maxwell, Project Veritas Action's press secretary. Maxwell asked the candidate why she didn't want to debate policies, referring to leaked footage of her describing how she would not discuss politics with her Uber driver because she would not do so with "anyone [she doesn't] know."
Hobbs stood up immediately, knocking over her drink in the process. She then entered the restaurant and locked herself in the bathroom, as did her campaign manager Joseph Wolf. Wolf then escorted Hobbs from the premises into a waiting car as she ignored further questions from the reporter.
BREAKING: @katiehobbs and Head Consultant @jwolf722 hide out in restaurant bathrooms before fleeing scene to avoid answering Project Veritas Action questions on undercover revelations

"Katie it's me…We're gonna leave, there's a car right here."#AZGov pic.twitter.com/gQuzzxnhTG

— Lara Logan (@laralogan) October 12, 2022
Do you think this is acceptable conduct from Hobbs, given that she's aspiring to become Arizona's governor?
Copyright 2022, RepublicanReport.org