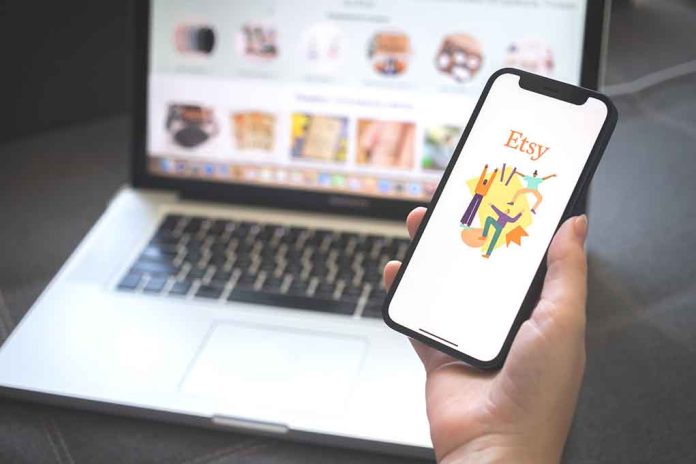 (RepublicanReport.org) – Nashville, Tennessee, was recently the epicenter of a tragic school shooting in which a transgender person shot and killed six people, including three nine-year-olds. Despite the tragedy, the popular e-commerce site Etsy is still selling pro-trans merchandise that has violent messaging.
Transgender activist rhetoric is getting more violent.

Here's a smattering of what Etsy sells. It's much worse in the deeper bowels of the internet pic.twitter.com/jBvz0XwvLu

— Mairead Elordi (@JohnsonHildy) April 3, 2023
Etsy is a great place to find neat crafts, trinkets, and even vintage items. Apparently, the website is also a hotbed for violent messaging within the transgender community. There are several questionable items still for sale on the site that could incite violence within the transgender base.
One such item is a sweatshirt that states, "respect my pronouns or yours will be was/were." Another item was a Progress Pride flag with a silhouette of an AK-47 and the words "armed queers bash back." One sticker shows a cartoon cat holding a knife with the caption, "respect gender pronouns or I will identify as a problem."
There are several shops on the e-commerce website selling merchandise similar to these items, and all with violent messages about respecting gender pronouns. One of the stores has cashed in on over 19,000 sales.
Are these types of items allowed to be sold on Etsy, or do they violate the site's terms? Perhaps a bigger question here is whether or not Etsy will take down these items, especially after the recent tragedy in Nashville.
The Daily Wire mentions that items similar to these on Etsy can be found elsewhere on the internet. One place is the online shopping titan, Amazon. Meanwhile, others can only be found in the darkest corners of the internet. However, even some of those are beginning to make their way to places like Etsy.
The transgender community has claimed it's not violent, but the recent school shooting and this merchandise seem to tell a different story. Perhaps like all groups, there are only a few bad apples, but only time will tell as the movement grows.
Copyright 2023, RepublicanReport.org