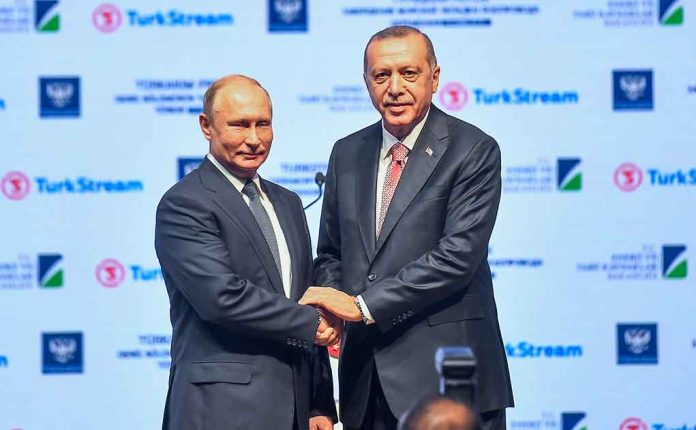 US Issues Critical WARNING – NATO Ally Put on Notice!
(RepublicanReport.org) – As the war between Russia and Ukraine reaches its six-month mark, Western countries continue to heap pressure on the Kremlin with economic sanctions. Many are convinced Moscow cannot persist indefinitely in the face of these penalties, but some Russians have reportedly managed to circumvent the punishment using Turkish businesses. Now, the United States is issuing warnings about this practice.
According to a report from the Wall Street Journal, Deputy Secretary of the Treasury Wally Adeyemo sent a letter to the American Chamber of Commerce in Turkey and the Turkish Industry and Business Association (TUSIAD) about the issue. Adeyemo reportedly warned both groups about the consequences of conducting business with Russian individuals who were under the deterrent, stating any Turkey-based companies who did so could end up being sanctioned themselves.
New: U.S. warns Turkish businesses against work with sanctioned Russians

Deputy Treasury Secretary @wallyadeyemo wrote to two top business associations warning Turkish companies could come under sanctions, according to a letter obtained by WSJ:https://t.co/fTsArO3gne

— Jared Malsin (@jmalsin) August 22, 2022
Turkey has retained ties with Russia since the outset of its war with Ukraine, despite the fact most other nations have joined in the effort to sanction Moscow. Russian President Vladimir Putin hosted Turkish President Recep Tayyip Erdogan in Sochi earlier this month following the agreement of a grain shipment accord between the two nations. This was just one among a series of diplomatic meetings between Erdogan and Russian officials over the last four years.
Do you think this was the right move by the US?
Copyright 2022, RepublicanReport.org