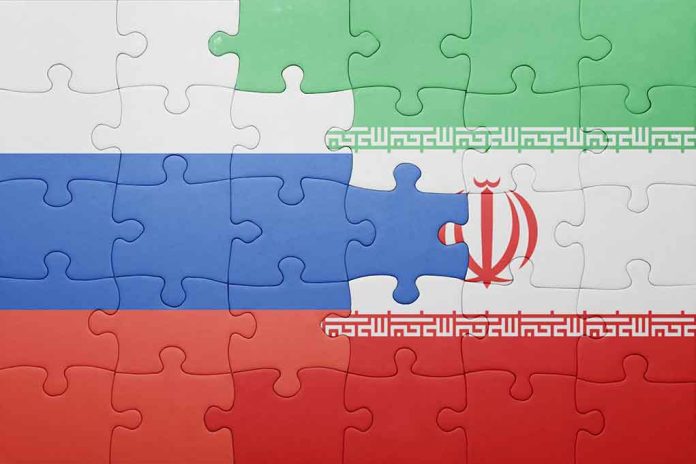 Iran HELPING Russia? – Disturbing Intel Reported
(RepublicanReport.org) – International relations are on tenterhooks in many areas of the world right now. As far as the United States is concerned, two of the biggest problem nations are Russia and Iran. The Biden administration has reported that the two nations are now allegedly cooperating on military innovations.
Russia Taking Iranian Guidance on Drones
As the Russian war in Ukraine approaches the six-month mark, the Kremlin's forces have reportedly reached out to Iranian military experts for help using drones against opposition forces. American intelligence suggests that the Middle Eastern nation has recently sent hundreds of drones to Russia and that military experts are also providing training in how to use the weapons. Officials from both countries have rejected reports that they're planning to use drones against Ukraine, according to a report from The Wall Street Journal.
The reports stem from images apparently captured in July showing Moscow officials visiting a drone facility in Iran. According to US sources, the Iranians displayed two different types for their Russian visitors.
This won't be the first appearance drones make in this particular conflict. Ukrainian troops have been using remotely operated devices they received from Turkey to resist further encroachment from Russia. WSJ reports that the US also plans to send 500 of the remote-control weapons to help combat further advances by the invaders.
A lot of media focus has centered on Tehran's nuclear program in recent years. However, the country's drone program is also noteworthy. Stars and Stripes previously reported that experts have referred to Iran's drones as some of the world's best.
The two countries also recently cooperated to send a satellite into orbit, according to BBC News. Russia launched the Iranian machine into space from its Baikonur base in Kazakhstan, and officials behind the project claim it will use sophisticated imaging capabilities for environmental and agricultural monitoring. US leaders have cast doubt on these statements, suggesting the possibility the satellite could actually be for military purposes.
Russia-Iran Relations in General
While Russia and Iran are not traditionally strong allies, they have grown closer since the beginning of the war in Ukraine. Russian President Vladimir Putin paid an official visit to Tehran last month, committing to improve cooperation related to concerns of international security.
However, it's not clear whether we're seeing the beginning of a major alliance or if it's simply convenient for both countries as they both struggle with major international tensions.
Are you concerned about the growing closeness between Iran and Russia? Is this something US leaders should attempt to address before it gets too difficult to control?
Copyright 2022, RepublicanReport.org