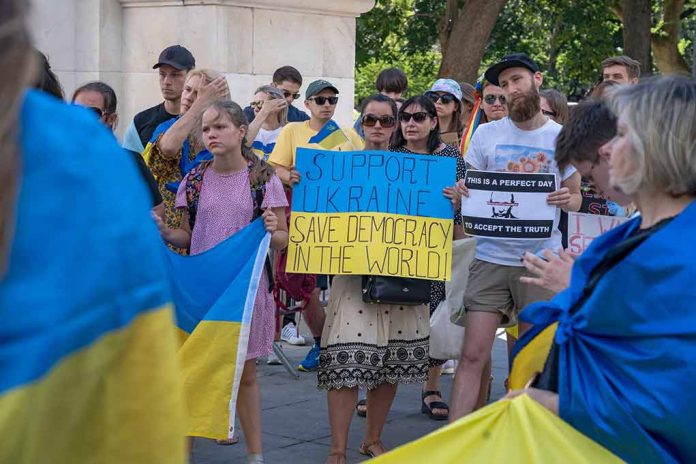 (RepublicanReport.org) – For the last 19 months, the Ukrainian military has been defending its country against Russian forces attempting to take over the sovereign nation. Russian President Vladimir Putin claimed the reason for the invasion was to "denazify" Ukraine. However, much of the world didn't buy that excuse, rallying behind Ukrainian President Volodymyr Zelenskyy and his team and sending aid to the country, while sanctioning Russia. Recently, the Ukrainian leader had some impactful words to say about the United States.
On September 20, the Zelenskyy spoke with Newsmax for an exclusive interview. He told host Greta Van Susteren how grateful he was for the "support to Ukraine" by the United States and other nations. He sent a special thanks to President Joe Biden for providing bipartisan support, adding that the US "investment" is protecting democracy overall.
While he admitted war is "very expensive," the cost to the world would be much greater than any dollar amount if Putin succeeds in taking Ukraine. Zelenskyy said the Russian leader would not stop with his country but would advance his war to NATO member states next. The Ukrainian president said the price of defending Ukraine doesn't compare to the cost of human lives, which does not have a price tag. He also believes if Russia prevails, other countries might see that as a signal to make a similar move.
Zelenskyy said Ukraine is "holding its ground" and, with the help of the United States and other countries, is "truly defending freedom and democracy."
So far, the United States has committed to sending over $43.7 billion worth of aid to Ukraine since the start of the war. Congress approved over $113 billion for the nation in 2022 for fiscal year 2023.
How much longer do you think the United States will provide aid to Ukraine? What do you think will happen if we stop?
Copyright 2023, RepublicanReport.org