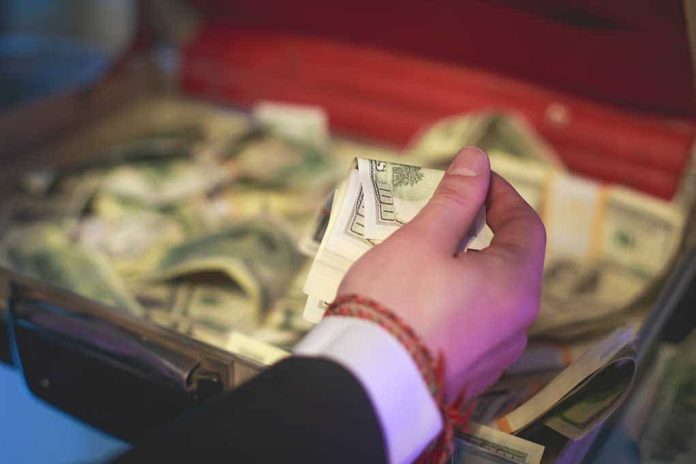 (RepublicanReport.org) – The International Organization for Migration (IOM) is a UN initiative to promote "humane and orderly migration" for the benefit of both migrants and their destination countries. Its website and mission statement also include references to "facilitating migration" and "the right to freedom of movement." But, according to a new report from The Federalist, the IOM may actually be pushing for illegal immigration into the United States and using US tax dollars to do it.
Cash Debit Cards for Border Crossers in Reynosa
During a trip to a migrant camp in Reynosa, Mexico, journalist Todd Bensman photographed some curious scenes. Among his snaps was one of UN-sponsored cash debit cards being handed out to migrants in line. Bensman also said he learned some migrants were receiving $400 through the card every 15 days and that there were different levels of financial support available. Workers in the camp said they were giving out the cards on behalf of IOM.
The migrants in this camp were primarily Central Americans who authorities had previously expelled from the US for migration offenses. According to one of the IOM workers at the facility, most of the individuals planned to cross into the United States via the Rio Grande to claim asylum. Most of their applications are likely to meet rejection, but they could spend several years in the US before reaching that stage.
Bensman followed up on other leads regarding the activities of the IOM after his initial discovery in Reynosa. He claims to have discovered that the group was also making cash payments, as well as other forms of assistance, to migrants in as many as 100 border facilities in Mexico. He says this project became a major focus for the IOM following then-President Donald Trump's institution of the "Remain in Mexico" policy in 2019.
A New Bill Aims to Stop This Practice
Following Bensman's report, a group of 12 House Republicans introduced the No Tax Dollars for the United Nations Immigration Invasion Act. If it passes into law, the bill will forbid the White House from granting money to the IOM and other organizations affiliated with the UN in its upcoming 2022 budget. The Biden administration reportedly plans to give these groups $3.8 billion.
If Bensman's claims are accurate, he's just lifted the lid on another major immigration scandal involving the Biden administration. So why is the federal government using taxpayers' money to worsen an existing border crisis?
Copyright 2021, RepublicanReport.org