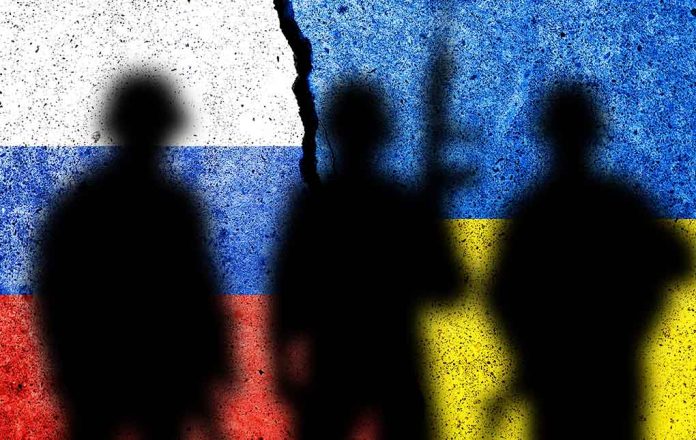 (RepublicanReport.org) – As the war between Russia and Ukraine enters its sixth week, allegations of war crimes against Russian President Vladimir Putin and his supporters are mounting. Earlier this week, President Joe Biden called Putin a "war criminal" and said the Russian leader deserves to stand trial for his various items of wrongdoing. New reports suggest Ukrainian officials are very much in agreement.
Ukraine Investigating Thousands of War Crimes, Reports Claim
On Wednesday, April 6, CBS reported leaders in Ukraine are in the process of investigating close to 4,500 reported war crimes by members of the Russian armed forces. According to Ukrainian President Volodymyr Zelenskyy, who addressed the United Nations Security Council on Tuesday, April 5, Russian operatives are deliberately killing Ukrainian civilians across the country.
Some of the highest-profile examples of these alleged war crimes occurred recently in the Ukrainian town of Bucha. Media reports across major platforms related that Russian troops shot civilians in the backs of their head with their hands tied, taking some from their homes and executing them in the streets.
This week, the BBC reported UK Prime Minister Boris Johnson's remarks that the killings in Bucha appeared not to be "far short of genocide." Meanwhile, Russia denies these allegations.
Department of Justice Contributions to International Probes
On Wednesday, April 6, Attorney General Merrick Garland announced the Department of Justice (DOJ) is taking part in broader international efforts to investigate Russian war crimes in Ukraine. Garland gave a press conference at the Washington, DC headquarters of the Justice Department alongside FBI Director Christopher Wray, Deputy Attorney General Lisa Monaco, and other leading figures in the intelligence sector.
During his address, Garland referred to former Attorney General Robert Jackson, who prosecuted Nazis involved in committing war crimes during World War II. Garland's grandparents were Jews living in Eastern Europe in the early 1900s who fled to the United States because of anti-Semitism.
The attorney general shared that officials from the Justice Department have been cooperating with representatives of Eurojust and Europol, the leading law enforcement agencies in the European Union. Furthermore, an interagency effort between the State Department and the Justice Department to assist Ukraine's public prosecutor with the collection of evidence is reportedly underway.
The Epoch Times reported this week that US officials also announced a spate of new sanctions against Russian government officials and elites.
Copyright 2022, RepublicanReport.org