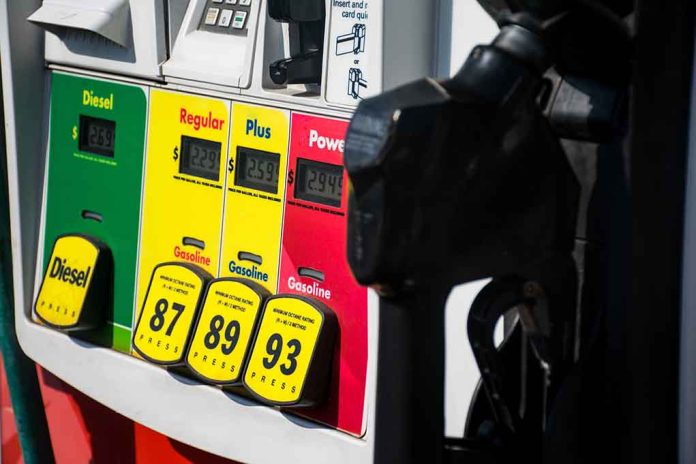 100+ Gallons Of Gas STOLEN – The Suspects Are About To Face Justice
(RepublicanReport.org) – As the price to fill up at the pump steadily increased, breaking records this spring and early summer, Americans felt the brunt of the crisis in their wallets. While the cost increased, so did retail gasoline theft. Newsweek reported that in late March and early April, thieves stole over $140,000 worth of fuel from stations across the country. While, according to AAA, prices of both regular and diesel have actually decreased over the last month, theft still appears to be a prevalent issue. On Wednesday, July 27, Florida police arrested a couple on allegations they looted a few hundred gallons of diesel from a 7-Eleven convenience station.
Lee County Sheriff's deputies said Edson Escalona and Tanilexis Tortolo allegedly used a homemade contraption to steal gasoline. Employees said they observed a tractor-trailer purchase 15 gallons, but dispense 200. Soon after, two other vehicles repeated the pattern, swiping another 248 gallons between them.
⛽️ MIAMI DUO STEALS FUEL ⛽️

Edson Escalona and Tanilexis Tortolo are booked in the Marceno Motel and charged with stealing hundreds of gallons of diesel fuel.

Read the release 👇https://t.co/N8ZGD38vFk#FloridaPoliceScanner pic.twitter.com/9HCqkHNCKD

— Florida Police Scanner (@FLPoliceScanner) July 27, 2022
Investigators say the couple concocted the scheme using theft gadgets. According to a report from NBC News, there are two main ways one could easily hack a pump. The first is by remote control, which is inexpensive and available for purchase on eBay. It works using a security key, and most facility owners fail to change the default key code, opening themselves up to bad actors. In another instance, a thief can use a homemade device to manipulate a gas pump into displaying only a small amount of the product it actually dispenses.
Sheriffs charged the Florida residents with fraudulently obtaining fuel.
Copyright 2022, RepublicanReport.org