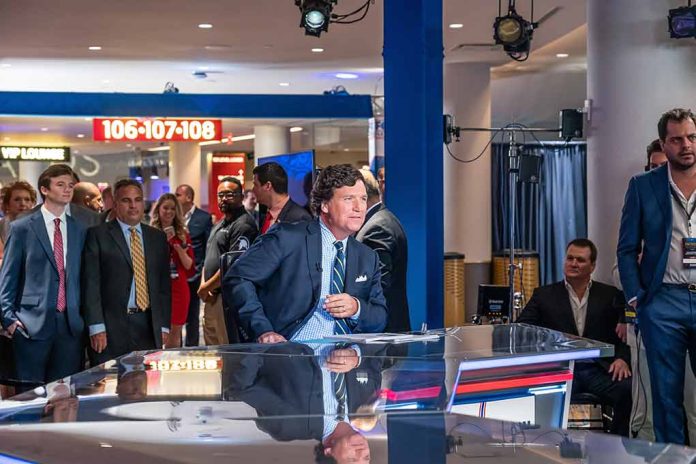 (RepublicanReport.org) – Last month, Fox News shocked many of its most loyal viewers by dropping popular host Tucker Carlson and canceling his show. The standoff between the network and its former star is said to be tense, with lawyers arguing over contract details. Carlson isn't going to be silenced, though — and now he wants to move his show to Twitter.
Network Dismisses Tucker
When Fox News abruptly dismissed Tucker Carlson — the host of its most popular show, "Tucker Carlson Tonight" — on April 24, nobody saw it coming. The network had just lost a huge lawsuit against Dominion Voting Systems, and while Carlson hadn't been involved in that, some of his private messages were leaked before the trial and then read out by Dominion in court. It's possible Fox was embarrassed by the contents, which highlighted a conflict between Carlson and Fox bosses over their views on former President Donald Trump.
Now, Carlson's lawyer is accusing Fox of breaching its contract with its former star. Attorney Bryan Freedman wrote to the network alleging that it broke an agreement that it wouldn't leak his private messages or use them to take any "adverse employment action" aimed at him. That issue will probably take a while to resolve, though, and in the meantime, Carlson doesn't plan on sitting around quietly.
Can Carlson Run His Own Show?
On May 9, Carlson posted on Twitter announcing his plans to launch a new version of "Tucker Carlson Tonight," and he's going to do it on the social media platform. Explaining that Twitter is "the place where our national conversation develops and incubates," he said it's the "last big platform in the world" that still allows free speech. However, he said, the news that gets analyzed on the site is still coming from mainstream media outlets and "the gatekeepers are still in charge."
Twitter CEO Elon Musk responded to Carlson's announcement, saying he hasn't signed a deal with Carlson and he'll be treated like any other content creator on the platform. He also encouraged others to share their own content. However, while Musk seems happy enough to have Carlson on the site, Fox might not be.
Although Fox News has canceled Carlson's show, he's still under contract to the network — and Fox plans to keep paying him until that contract expires in January 2025. Technically, that means Carlson isn't allowed to launch a competing show. However, if Fox decides to go down that route, it will quickly become a fight to prove who violated the contract first. There's no guarantee the news outlet would win that fight — and the last thing it needs right now is another messy, high-profile legal defeat. Even worse, trying to stop Carlson from moving his show to Twitter could alienate a lot of his fans who still watch the network.
Fox would probably prefer that their former star didn't have his own platform outside their control, but is that enough to overcome the Holy Grail of viewing figures? Maybe not — and that creates a gap in Fox's legal defenses that Carlson could easily slip through.
Copyright 2023, RepublicanReport.org