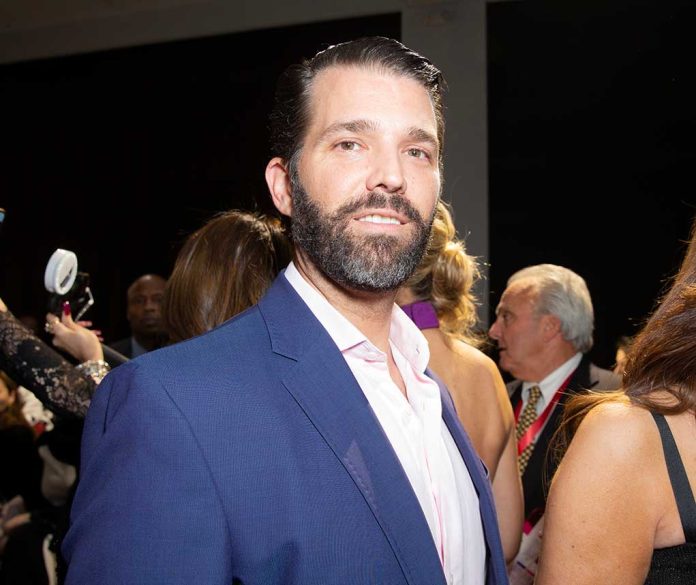 (RepublicanReport.org) – Donald Trump Jr has called for a crackdown on China's use of social media as a spying tool. The former president's son issued a strong warning about the communist regime's appetite for personal data, and said it's time for the government to take action. He also widened the focus from the notorious TikTok app to other social media platforms that collaborate with China.
"Data security and privacy laws in the U.S. aren't cutting it right now," says @DonaldJTrumpJr. "We've also got to look at some of these other companies who are very happy to let TikTok be the punching bag to keep themselves out of the line of fire." https://t.co/BKoWcBzmt9

— Breitbart News (@BreitbartNews) March 8, 2023
Talking to Breitbart News on March 7, Trump Jr discussed a House bill that's being pushed by Representative Michael McCaul (R-TX) that would give President Joe Biden a mandate to ban the TikTok video blogging app from the US. TikTok aggressively collects users' personal data, which could then be exploited by Chinese intelligence agencies, and many legislators believe it's a national security risk. Senate Intelligence Committee chairman Mark Warner (D-VA) also introduced a bipartisan bill and thinks it might be necessary to cast the net wider. Trump Jr agrees with him.
Trump told Breitbart that "Data security and privacy laws in the US aren't cutting it right now," and went on to say that while he approves of dealing with TikTok, other companies need to be looked at, too. He said some tech firms are "happy to let TikTok be the punching bag" because the app distracts attention from their own activities. Instead of letting that continue, he urged Congress to set a more ambitious target, and make sure that no social media company is sending data on US citizens to China. In a later tweet, he added, "No letting Facebook, IG, Twitter or anyone else off the hook."
TikTok is fighting to avoid a ban, with the company's US management trying to persuade legislators that it can stop China from accessing Americans' data, but the tide is against it. The federal government has already banned the app from official devices, and several states have done the same. Trump Jr says that's not enough; tech businesses have been far too cooperative with the communist state, and he wants it to end.
Copyright 2023, RepublicanReport.org