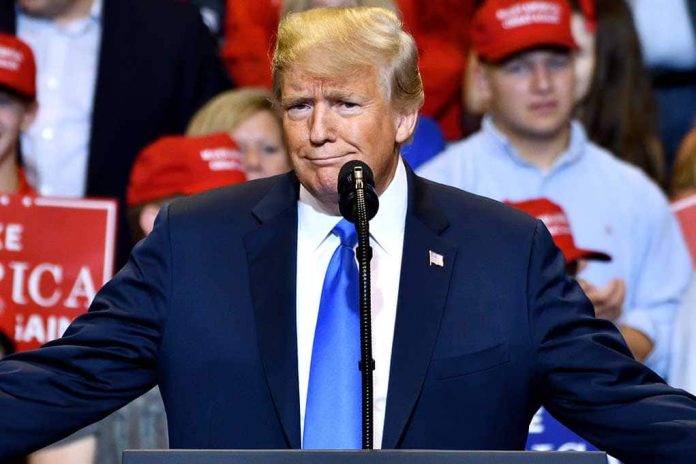 (RepublicanReport.org) – Former President Donald Trump has had a tough time making his voice heard this year. Most social media and streaming platforms silenced him after the events of January 6, citing concerns about violence and public safety. But, Trump and his team came up with limited ways around censorship, such as launching a personal website with Twitter-style short-form communication.
However, it looks like the former president is now launching a serious bid to level the playing field in terms of social media.
Trump Reveals He's Launching His Own Social Media Platform
On Wednesday, October 20, Trump Media and Technology Group (TMTG) revealed its plans for TRUTH Social, a new platform offering an alternative to the established Silicon Valley giants. In a press release, Donald Trump himself said the platform would stand in opposition to the "tyranny of big tech," highlighting the role of companies like Facebook and Twitter in smothering conservative voices.
Guests will be able to try out a beta version of the platform this November, and it's currently available for pre-order via the Apple App Store. The finished product rolls out early next year for use by the general public.
The Return of The Donald?
This development comes as Donald Trump's name receives favorable coverage in opinion polls, particularly from the Republican voter base. Quinnipiac University released a poll on October 19, indicating that 78% of GOP voters want to see Trump as the Republican candidate in the 2024 presidential race. The same poll put that figure at 66% in May, so Trump's sway among Conservatives seems to be growing steadily once again.
The October Quinnipiac poll had less positive news for President Joe Biden. Of all those surveyed, 52% disapproved of the president's job, compared to just 37% who thought he was doing a good job. The study also revealed that the issues voters look at as the most urgent are the economy, COVID-19, and immigration. The president is getting severe criticism for his handling of all three.
So, does the fact Trump is entering the social media business mean his political ambitions have dampened? The 45th president has been notoriously cagey when it comes to his intentions regarding the election in 2024. However, he has strongly hinted that he wants to run, and there may be strategic reasons why he's holding off an official announcement for as long as possible.
With the tide of public opinion gradually shifting against Joe Biden and Big Tech censorship as prevalent as ever, this news will be warmly welcomed in conservative circles.
Copyright 2021, RepublicanReport.org