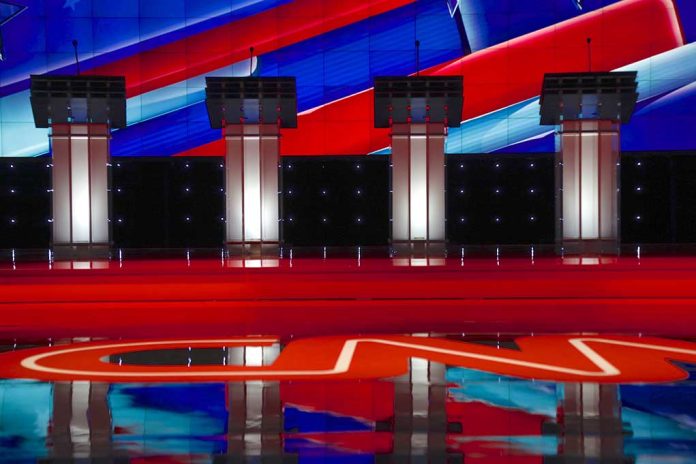 (RepublicanReport.org) – Former President Donald Trump has made a name for himself by going against the grain, especially when it comes to politics. He recently threatened to boycott debates held in relation to the Republican primary election. Will his decision hurt or benefit him in the end?
Trump doesn't like the idea of a primary debate https://t.co/HTuESoPAEv

— Daily Caller (@DailyCaller) April 26, 2023
The former president recently took to his social media platform, Truth Social, to air out his grievances with debating for the GOP primaries. Trump complained that no one got a green light from him or his campaign to hold the debates, which Republican National Committee Chairwoman Ronna McDaniel announced earlier this year.
RNC will hold its first Presidential primary debate in Milwaukee, Wisconsin in August according to RNC Chair Ronna McDaniel.
See below.

Further debate details still TBD. pic.twitter.com/Oe7T015Omc

— CALI (@CALI4AZ) February 23, 2023
The former president explained that he was leading in the polls and had no reason to subject himself to "being libeled and abused," claiming it would be "Trump & MAGA hating anchors asking the questions." He then noted the second debate would take place at the Ronald Reagan Presidential Library before saying "no." Trump's post and apparent anger toward the primary debates seems to suggest that he won't be participating in them.
According to RealClearPolitics, no one is even close to the former president in the polls. The closest person to Trump is Governor Ron DeSantis (R-FL), who has yet to declare his candidacy for 2024. All the other declared and potential candidates, aside from the Florida governor, don't even break double digits in the polls.
As of right now, Trump feels he has the party's nomination in the bag, even with an already crowded primary field as former US Ambassador Nikki Haley, radio show host Larry Elder, former Arkansas Governor Asa Hutchinson, and entrepreneur Vivek Ramaswamy have declared their candidacies for 2024.
DeSantis, former Vice President Mike Pence, and South Carolina Senator Tim Scott seem to be exploring the idea of running for president as well. Time will tell who else joins the race.
Copyright 2023, RepublicanReport.org