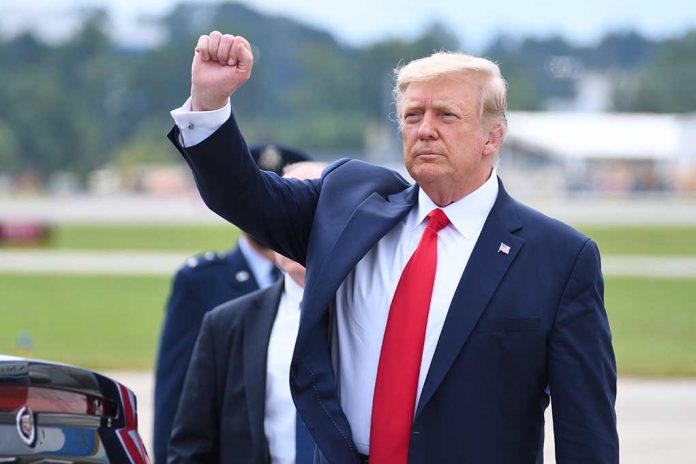 (RepublicanReport.org) – The Republican Party is starting to look harder at who will be its presidential nominee for next year's general election. So far, three candidates have declared themselves. Now polling shows that one of them — former President Donald Trump — already has a big head start.
New Fox News national poll of GOP presidential race: Trump 43 DeSantis 28 Haley 7 Pence 7 Abbott 2 Liz Cheney 2. https://t.co/tfJTF73Ctc pic.twitter.com/AfEQHAxzTq

— Byron York (@ByronYork) February 26, 2023
On February 26, Fox News released a new poll based on a hypothetical campaign for the 2024 Republican presidential nomination. Respondents were asked which of 15 potential candidates they would back, covering two who already have — Trump, former UN ambassador Nikki Haley — as well as every other credible candidate. The results were clear; Trump is easily the favorite.
In fact, it isn't even close. Of the potential runners, Trump has the backing of 43% of those polled. His nearest rival is Florida Governor Ron DeSantis, with 28%; Haley and former Vice President Mike Pence are tied at 7%, and nobody else broke the 2% mark. When the choice was narrowed to Trump and Haley, the results were even more conclusive; 66% backed Trump, and just 24% thought Haley would be a better candidate. Seven percent (7%) voted "other" even though there were no other choices.
Of course, a lot can happen in 18 months. The most popular alternative to Trump — DeSantis — hasn't even confirmed that he plans to run yet, and if he does, that could make many Republicans reconsider. Other polls have shown a much smaller gap between the two. The governor is also on a tour to promote his new book right now; that exposure, and the book itself, could win him new fans.
So far, though, Trump can feel good about his 2024 campaign — especially compared to his likely opponent. The same poll asked Democrat voters if they'd like to see President Joe Biden run again or have someone else instead. Just 37% want the current leader to run next year, while 53% want him replaced.
Copyright 2023, RepublicanReport.org