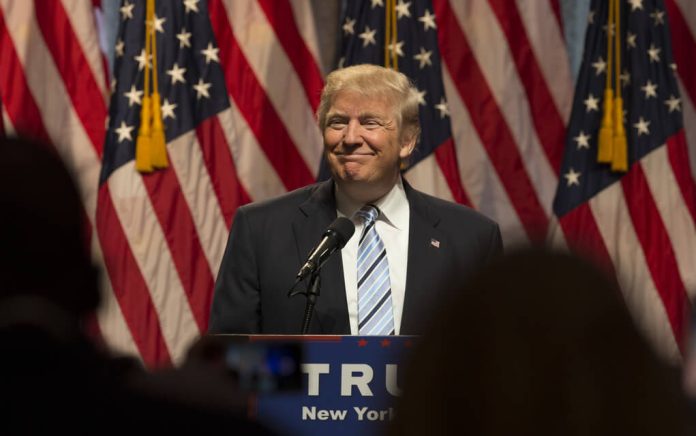 (RepublicanReport.org) – Currently, there are several people running for president of the United States in 2024, and even more who will potentially enter the race. So far, the candidates on the Republican side include former South Carolina Governor Nikki Haley, entrepreneur Vivek Ramaswamy, and former President Donald Trump — who seems to be the front-runner for the Right. Many expect Governor Ron DeSantis (FL) to throw his hat in the ring, and polls have included the state leader in head-to-head questionnaires against Trump for president over the last several months.
On March 21, Morning Consult released a new poll, showing the previous president outpacing DeSantis by a margin of 28%. The 2024 GOP Primary Tracker has Trump garnering 54% support from those surveyed, while the Florida governor only earned 26%. The closest third was former Vice President Mike Pence with 7%, who has yet to announce, followed by Haley with only 4% from voters polled. Other confirmed and potential candidates barely got any support at all.
2024 National Republican Primary: Trump Posts Strongest Lead Yet Over DeSantis

• Trump — 54%
• DeSantis — 26%
• Pence — 7%
• Haley — 4%
• Cheney — 3%
• Noem — 1%
• Pompeo — 1%
• T. Scott — 1%
• Ramaswamy — 1%@MorningConsult | 3,394 RV | 03/19https://t.co/dQctcc1IMp pic.twitter.com/4URJTNKWNx

— InteractivePolls (@IAPolls2022) March 21, 2023
Morning Consult also included support over time with its poll release, spanning back to December 2022. The data showed support for Trump and DeSantis was fairly consistent over the last three months, with the most recent support spiking up for the former president and matching DeSantis' low point from the first week of March.
The National File seemed to indicate the Florida leader's drop is due to his reaction to Trump's ongoing legal woes. During a press conference on March 20, DeSantis said he had no intention of getting involved in Trump's impending indictment by Manhattan District Attorney Alvin Bragg. The state leader called the issue a "manufactured circus by some Soros DA" and said he has real issues to deal with in Florida.
If his words are to blame, do you think the public's reaction will affect how he addresses Trump's predicament going forward?
Copyright 2023, RepublicanReport.org