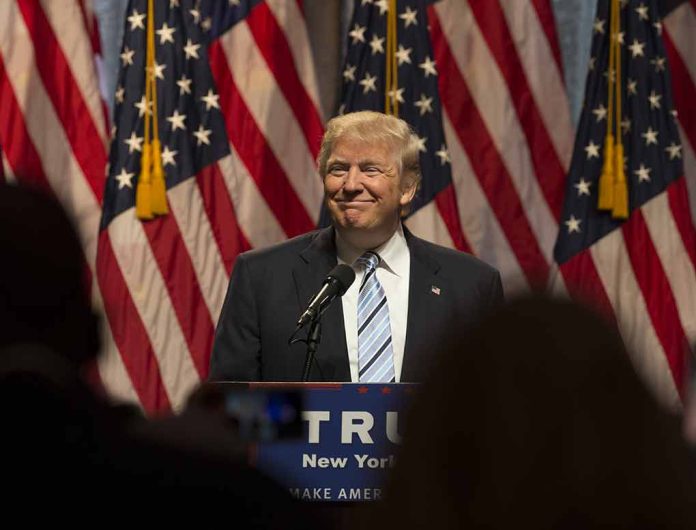 (RepublicanReport.org) – As Progressives continue to push their LGBTQ agenda, people born as biological males have been allowed in various women's sports, sometimes even taking medals away from females in top competitions. Many females are upset that their freedoms and futures are in jeopardy after women before them fought for decades for equal rights and opportunities. Many political groups, such as Concerned Women for America, advocate for them with this movement. This group's advocacy arm is called Concerned Women for America Legislative Action Committee (CWALAC), and its leadership recently got presidential candidate Donald Trump to sign a historic pledge supporting their cause.
The Presidential Promise to American Women
On Thursday, June 29, Trump signed CWALAC's "Presidential Promise to American Women." The document states that he will "uphold the truth that women are exclusively female" and are the only people who can be mothers, experience pregnancy, and birth children. Signing the pledge is Trump's promise that his administration, if he wins a second term, will fight for "the status and dignity of women and girls" and ensure that federal agencies operate with the understanding there are only two sexes: male and female. The promise specifically highlights the areas where a presidential administration will focus its efforts in this field, including "shelters, prisons, housing, healthcare, defense, education, and sports."
Trump is the first presidential candidate to sign this pledge. It happened a few weeks after he met with CWALAC's president and CEO, Penny Nance, on Wednesday, June 7. After their meeting, Nance noted in a press release that Trump "was the most pro-life president in our nation's history" and, because of him, "tens of thousands of lives have been saved." In addition to highlighting the issues in women's sports right now, she shared with Trump "the plight of parents fighting to protect their children" from exposure to sexualization and indoctrination of young minds in school.
Trump's History of Protecting Women, Children, and Families
According to Breitbart, in January, Trump announced a 10-point plan to combat the current gender agenda. During a speech highlighting his hopes, he called gender-affirming care for minors "child abuse" and "chemical, physical, and emotional mutilation." He reassured listeners he would begin reversing President Joe Biden's gender-affirming legislation on his first day in office using executive orders, too.
Sex, gender, and how they are treated in the public square and with public tax dollars are major issues in the upcoming elections. As Republican candidates compete to be their party's presidential nominee, American voters will likely evaluate where they stand when it comes to protecting their children, education, and women's rights. As Trump is the only one to have signed CWALAC's "Presidential Promise to American Women" so far, this could help his likeability among certain voters.
Copyright 2023, RepublicanReport.org