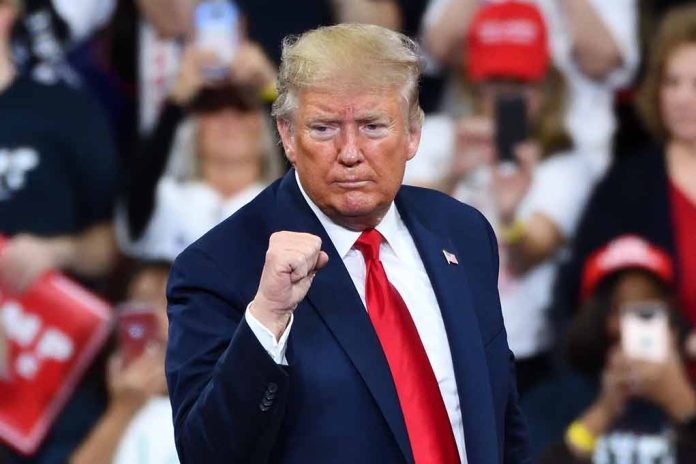 (RepublicanReport.org) – Republican presidential hopefuls battled it out in their first organized 2023 debate, but notably missing from the lineup was former President Donald Trump. Despite his absence, the MAGA leader still holds a nearly 40-point lead over second-place contender, Florida Gov. Ron DeSantis. The results have left some people wondering if there's an event out there Trump can't skip without harming his chances at the polls.
Eight podiums stood on the stage in Milwaukee, Wisconsin, for the event on Wednesday, August 23, but the most popular GOP member wasn't among the candidates arguing for their chance to lead the United States. Trump opted instead to release a pre-recorded interview with former Fox host Tucker Carlson. He reasoned that, given his tremendous lead, he didn't think he needed to submit himself to the type of harassment that occurs in those kinds of events. The former president added that Fox News had not been particularly kind in its reporting on him, adding that the network had also been supportive of his biggest rival, DeSantis.
Other candidates attempted to clench their moment in the spotlight. Former South Carolina Gov. Nikki Haley took an oppositional strategy, being among the few who vocally opposed Trump. She also wasn't shy about slamming others on the stage, accusing Vivek Ramaswamy of "want[ing] to hand Ukraine to Russia," let China take Taiwan, and end US support of Israel.
Other contenders, like South Carolina Sen. Tim Scott, placed the focus of their attacks on Democrats and the Biden Administration. They pointed to the economic disaster the country has faced in recent years, blaming Bidenomics and promising changes to reduce wasteful federal spending and empower the individual states.
Meanwhile, Trump's Fulton County, Georgia, mugshot which coincides with his booking as Inmate No. P01135809, according to The Washington Post, has the country more divided than ever. While Democrats are largely delighted with the pic, BBC News notes that many of the former president's supporters feel confident that its circulation, as well as coverage of the latest indictment, will only offer his ratings yet another boost.
Copyright 2023, RepublicanReport.org