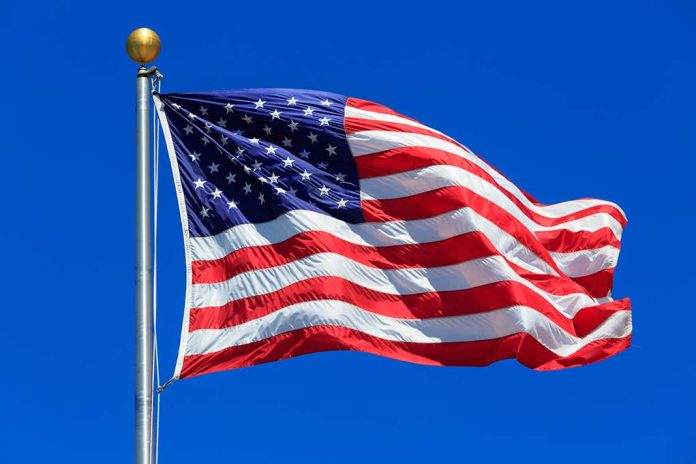 (RepublicanReport.org) – Former president Donald Trump is stepping up his campaign to get back into the White House. He's launched a new ad that zeroes in on the current administration's record. It's a relentlessly downbeat message, but Biden's set himself up as a perfect target for it.
🚨 MUST SEE— New Ad from the Trump Campaign: "Mourning in America"

WATCH: pic.twitter.com/soRlc1bNT7

— Team Trump (Text TRUMP to 88022) (@TeamTrump) May 10, 2023
On May 10, Trump released a dramatic new ad that pulls no punches when it comes to the Biden Administration's performance. The opening scene shows an alarm clock and the caption "Morning in America," but then the text changes to "Mourning in America" before launching into a list of Biden's failures. Luckily for the scriptwriters, there are plenty to choose from, and in quick succession, the ad hammers the president for:
The collapse of security at our southern border, and the flood of illegal immigrants;
Loss of parental involvement in schools;
The destruction of women's sports by trans athletes;
Young people being priced out of the housing market;
The chaotic withdrawal from Afghanistan, and the abandonment of weapons to the Taliban;
Falling police numbers; and
The massive expansion of the IRS.
The ad is hard-hitting, and Biden will want to hit back just as hard. Depending on what the president decides to do next, this could turn into a very dirty election campaign. Will he focus on Trump's ongoing legal issues, for example, the May 9 guilty verdict in his New York sex abuse trial? That's a likely option, because most candidates want to keep the focus on their challengers and well away from their own record.
Recent polling shows most voters think Trump would do a better job of fixing our broken economy. In fact, the surveys are full of bad news for the president. Right now, the numbers show Trump with a slim 7% lead over his likely 2024 opponent. Biden's incumbent advantage is nowhere to be seen at the moment.
Copyright 2023, RepublicanReport.org