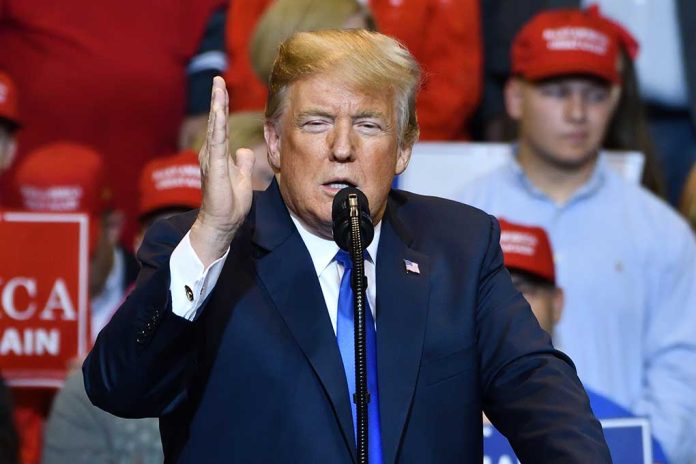 (RepublicanReport.org) – In 2016, South Carolina Senator Lindsey Graham (R) predicted then-candidate Donald Trump would "destroy conservatism" if he won the GOP nomination for the presidency in 2016. The legislator went so far as to call him a "demagogue" and an "interloper" in the Republican party. Over the years, however, Graham has done a complete 180, becoming one of Trump's biggest fans in the Senate. The former president has also been back and forth when it comes to his opinion of the South Carolina lawmaker. The crowd at a recent rally in New Hampshire, however, didn't seem to care for the senator.
At a rally on April 27, Trump referred to Graham as a "progressive" during a speech in front of a crowd in The Granite State. The mere mention of the senator's name was met with a chorus of boos from the audience. But Trump tried to stop the jeers by putting up his finger to halt the noise and saying Graham's "got some good things too." The former US leader then explained how the legislator supported Trump's effort to pass the Reciprocal Trade Act in 2019.
Trump: "Very interesting. Lindsey Graham, the progressive from South Carolina…"

[crowd boos]

Trump: "No, he's a progressive, but he's got some good things too. OK?"

[crowd boos louder] pic.twitter.com/1CiVEV1gbZ

— Justin Baragona (@justinbaragona) April 27, 2023
If passed, the act would have given the president the power to change tariffs on exported goods to match the taxes levied on imported goods from a particular country.
Trump described the measure a bit differently, saying if a foreign country charged a US company a certain dollar amount to operate there, the United States should charge businesses from that country the same to operate on American soil.
Although the relationship between Trump and Graham has been hot and cold over the years, the South Carolina lawmaker stood behind Trump after his recent indictment. At the end of March, he appeared on Fox News with tears in his eyes, begging conservatives to donate their money to Trump for his legal bills.
Copyright 2023, RepublicanReport.org