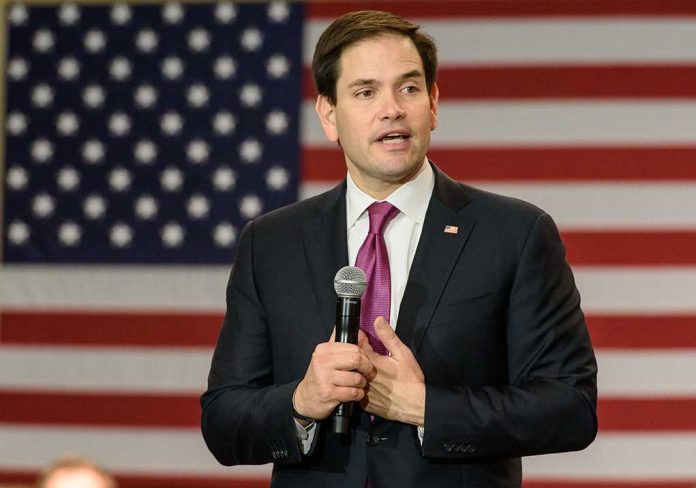 Trump Cheers After Marco Rubio Leads in Newest Florida Poll
(RepublicanReport.org) – The US Senate race in Florida was once a competitive toss-up with under three points separating the candidates. As the campaign season enters its final week, however, incumbent Republican Senator Marco Rubio has a commanding lead in the polls. One new Sunshine State survey shows Rubio so far ahead of challenger Val Demings that it gained the attention of former President Trump.
Former Pres Trump applauded Senator Marco Rubio, R-Fla, for his double-digit lead in a recent poll regarding his reelection, an 11-pt lead over Rep Val Demings, a Democrat –
Trump is planning to headline rally for Rubio next wk –https://t.co/5psBnVFEnC

— Blanche Victoria (@tammytabby) October 31, 2022
On October 29, Trump congratulated Rubio for an 11-point lead in a poll from the University of North Florida, reported by the Tallahassee Democrat. Of 622 likely Florida voters, 54% said they'll turn out for Rubio as opposed to only 43% for Demings. Trump's nod came on his social media platform TruthSocial. He told his followers about an upcoming rally for the senator while laying into Demings.
As a US Representative, Demings served as one of the impeachment managers in Trump's first trial in 2020. The House voted to affirm impeachment, but the Senate failed to convict. Trump called her a "Radical Left Impeacher" before stating in no uncertain terms he feels she's not qualified to serve in the US Senate.
Senator Rubio's relationship with the former President started on shaky ground during the 2016 GOP primaries. The two men exchanged words — and insults — on many occasions during debates and interviews but ultimately learned to work together after Trump ascended to the head of the party.
Copyright 2022, RepublicanReport.org