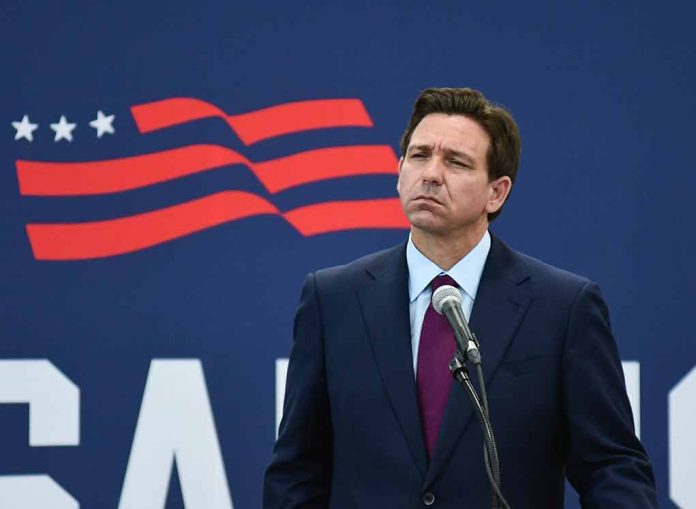 (RepublicanReport.org) – Hurricane Idalia made landfall in Florida as a Category 3 hurricane in the early hours of August 30. Current damage estimates range from about $12 to $20 billion scattered across the state. Widespread rainstorms and flooding battered the state for days, killing at least two people in weather-related traffic accidents as of September 1. As one might expect, former President Donald Trump attacked Governor Ron DeSantis (R) while he tended to the state's response to the horrific storm.
DeSantis took time off from the campaign trail to return to Florida days before the storm hit to manage the state's emergency response. Media outlets praised his command of the situation, apparently striking a negative chord with Trump.
The former president lashed out at the governor using his latest monicker for his political rival — Ron DeSanctimonious. He claimed the Floridian leader's campaign was in "shambles." He said DeSantis' polling numbers "absolutely crashed," dropping him to third or fourth place in some states.
Trump also resorted to his usual "people are saying" and "rumors are circulating" that DeSantis would be "dropping out of the race soon." Trump seems to think the Florida governor will run for a seat in the US Senate against Senator Rick Scott (R-FL).
Meanwhile, back in the real world, Real Clear Politics polling average for Republican presidential hopefuls shows DeSantis with a comfortable, if not dwindling lead, for second place. As of September 1, his approval rating is 13.5%, while his nearest competitor, businessman Vivek Ramaswamy, only has 7.3%.
The remaining candidates fared worse, with none reaching an approval rating of 5%. Former North Carolina Governor Nikki Haley was next in line with 4.9%, followed by former Vice President Mike Pence with 4.6%.
Since the storm, the Florida governor has devoted his attention to visiting areas impacted by the hurricane. He also issued a Major Disaster Declaration, freeing up funds for Floridians. Those actions could flip some voters. His numbers had been gradually declining since his February peak. However, on August 27, they started curving upward — coinciding with his return to Florida to take charge of the state's hurricane response.
Copyright 2023, RepublicanReport.org