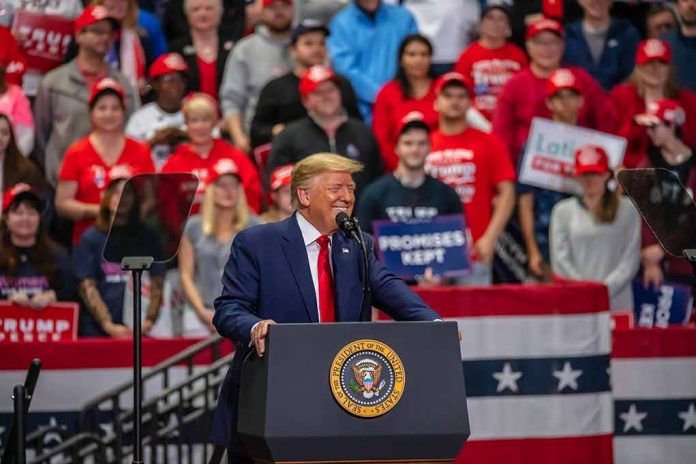 (RepublicanReport.org) – US Presidents have sought to expand their powers over the centuries despite the Framer's efforts to constrain them. For instance, Abraham Lincoln suspended habeas corpus during the Civil War. Eight decades later, Franklin Roosevelt reorganized numerous executive branches and independent government entities and gave himself the authority to censor mail during World War II. Amid concerns about the weaponization of the federal government by various departments and organizations, former President Donald Trump plans to decrease the power of federal and independent government agencies.
On July 17, The New York Times published a comprehensive article detailing Trump's plans to expand the power of the presidency and limit those of independent and federal agencies if he wins his bid for a second term in 2024. For example, the Times reported he plans to strip the independent authority of agencies like the Federal Trade Commission and Federal Communications Commission. Instead, he wants to have direct presidential control over their operations.
Trump's former head of the White House Office of Management and Budget, Russell Vought, confirmed the plan. He explained that the former president's team is working to "identify pockets of independence" within the federal bureaucracy and "seize" control of them.
Trump has also said he plans to break the decades-long tradition of keeping a wall of separation between the White House and law enforcement departments and agencies like the Justice Department and FBI. He indicated that he would appoint a special counsel to pursue a criminal investigation into President Joe Biden, his son Hunter, and other family members.
Trump campaign spokesman Steven Cheung said the former president's "bold and transparent agenda" for a second term distinguishes him from other candidates. As he explained, "Voters will know exactly" where Trump stands on the issues and how he plans to secure the nation's borders, address inflation, "supercharge the economy … and eradicate the deep state."
The NY Times confirmed that Trump plans to expand presidential authority with the help of his "well-funded network of conservative groups." Likewise, he plans to turn to established think tanks like the Heritage Foundation, whose influence spans back to the administration of former President Ronald Reagan.
Although it remains unclear how voters might react to Trump's plan in 2024, his current polling figures speak volumes about the current response to his policy ideas. The latest I&I/TIPP survey shows him leading Florida Governor Ron DeSantis by 39 points.
Copyright 2023, RepublicanReport.org