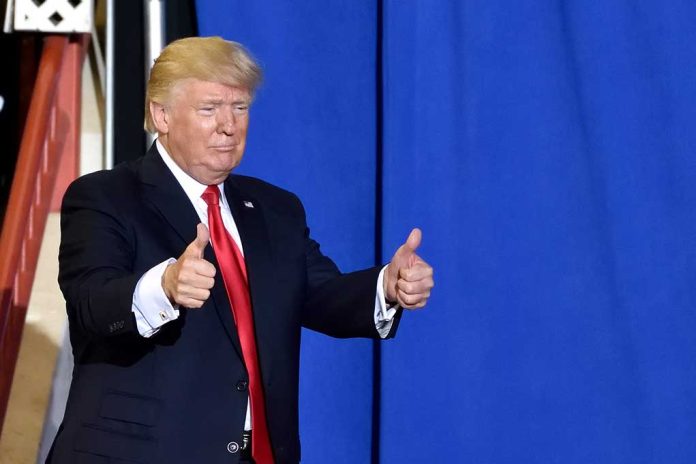 (RepublicanReport.org) – Former President Donald Trump hopes to regain his spot in the Oval Office. Until recently, he was the only Republican candidate to announce they were running. However, that changed when former South Carolina Governor Nikki Haley announced her 2024 candidacy and presented a challenge.
Trump Accepts Nikki Haley's Challenge on Mental Competency Test, Wants to Add a Physical Too: 'ANYBODY' Running Should Take One https://t.co/9Exaf9T8y8

— Mediaite (@Mediaite) February 21, 2023
During her announcement, the former United Nations ambassador mentioned that candidates over the age of 75 should undergo mental competency testing. Many perceived the 51-year-old's comments as an attack on both the incumbent President Joe Biden and his predecessor, her only challenger for the GOP's nomination, Trump.
The former commander-in-chief responded to his contender's call. On several occasions, Trump has boasted of passing cognitive tests designed to determine if someone is showing signs of dementia.
The 45th President posted on his social media platform, Truth Social, and not only accepted Haley's challenge, he even raised the stakes. Trump said that anyone looking to run for US president should undergo the competency test and a physical test to ensure the candidate is physically able to carry out the duties of the leader of the free world.
Trump noted that a person must possess certain qualities, such as "physical stamina" and "great mental acuity," to lead America. He said that if a candidate doesn't have any of these qualities, they probably won't have much success.
The former president got off to an early start for 2024, announcing his candidacy only a week after the midterms. Trump has been outspoken about his potential challengers, launching attacks on them even before they announced they're running. Haley and Florida Governor Ron DeSantis (R) have both been targets of the 45th President.
The GOP is facing a potentially packed primary field as several Republicans have expressed interest in running for president. Senator Mitt Romney (R-UT) has warned against having several candidates, claiming it will give Trump an advantage. The Utah Republican instead believes there should only be one or two candidates, saying that's the best way to ensure Trump doesn't win the party's nomination.
Copyright 2023, RepublicanReport.org