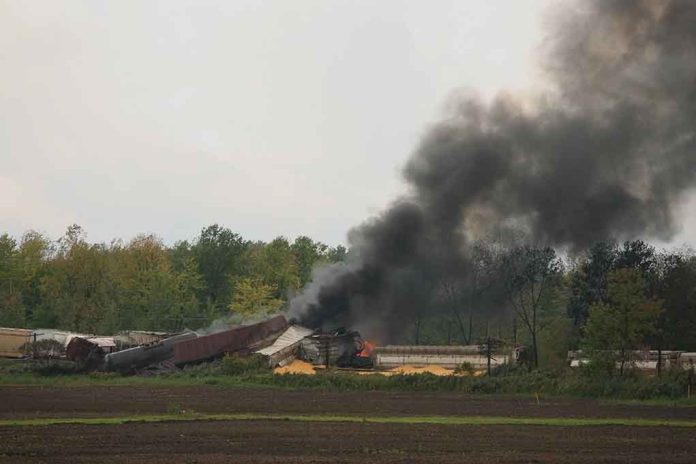 (RepublicanReport.org) – Residents have been allowed to return home after the February 3 train crash near the Ohio-Pennsylvania state line — but is the area safe? Toxic chemicals were released after authorities carried out a controlled burn of the train's dangerous cargo. Now, local pet owners say some of their animals are dying.
"Kirk Kollar of the Ohio EPA said the levels of toxic chemicals observed in nearby waterways "were immediately toxic to fish," and that spilt material had leaked into Sulphur Run. Lesley Run, Little Beaver Creek and the Ohio River were being monitored" https://t.co/4X81Wu4FZA

— Mindy Weisberger (@LaMinda) February 13, 2023
On February 3, a Norfolk Southern train carrying industrial chemicals derailed near the village of East Palestine, Ohio. Three days later, to cut the risk of a devastating explosion, five tanks of vinyl chloride were deliberately breached with explosives and their cargo allowed to pour into a ditch and burn off — releasing a huge plume of chemical-laced smoke.
The evacuation order imposed on East Palestine was lifted on February 8 and residents were allowed to return home. However, Environmental Protection Agency (EPA) teams have found several toxic chemicals in the surrounding area. These include butyl acrylate, ethylhexyl acrylate and ethylene glycol monobutyl, as well as unburned vinyl chloride. The February 6 burn-off also released hydrogen chloride, which is toxic, and phosgene, which was used as a poison gas in WWI.
Since returning home, several residents say they've suffered from nausea and headaches — and others claim pets have been killed by contamination. East Palestine resident Taylor Holzer lives just outside the evacuation zone and rescues animals in the area. He says one of his foxes became ill and then quickly died. Four more foxes are sick, from what he believes is chemical exposure. Holzer also says chickens, a wild hawk, and a pet cat have all died in the area since the accident.
Regulators are monitoring air and drinking water in the area, and say there's no sign of dangerous contamination — but not everyone is convinced. At least three lawsuits have already been filed against Norfolk Southern, seeking medical expenses to cover screening and treatment for those in the evacuation area. The train company has already submitted a cleanup plan to the EPA, but many residents are still unhappy.
Copyright 2023, RepublicanReport.org