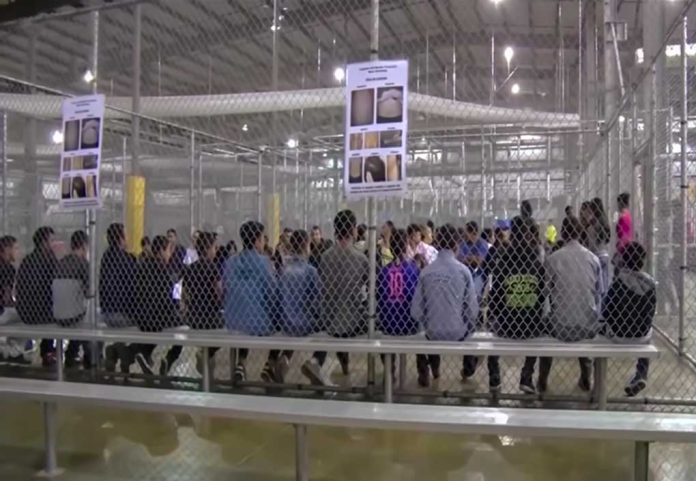 (RepublicanReport.org) – Though the media's attention has mainly been elsewhere over the last few weeks, the crisis on our southwest border continues to cause significant problems. The problematic policies that first gave rise to the situation are still in place, and undocumented migrants continue to pile up near busy crossing points. In the latest development, thousands of migrants have gathered under a bridge near a border crossing in South Texas.
Following Haiti's recent earthquake, thousands of displaced Haitians reportedly made their way out of the Caribbean nation to South America before traveling to the US. Most of the mass of migrants under the Del Rio International Bridge, which crosses the Rio Grande, are allegedly Haitian, though there are some Nicaraguans, Cubans, and Venezuelans as well.
Law enforcement source on the ground at the bridge this morning just sent me this video showing the situation there. I'm told a large majority of the migrants are Haitians and more are crossing into the US and arriving at the bridge by the minute. BP w/ limited manpower @FoxNews pic.twitter.com/dHWCrhFikq

— Bill Melugin (@BillFOXLA) September 16, 2021
According to recent statistics from Customs and Border Protection (CBP), over 31,000 Haitians have come to America in the last 11 months. This influx includes individuals from some mixed-nationality families.
To arrive at our border, many of these migrants would have had to make journeys of thousands of miles. Along the way, they would've contended with jungles, criminal gangs, and border guards.
With an estimated 10,000 immigrants currently gathered in Texas with no proper resources, the situation is threatening to spiral into a humanitarian crisis.
Copyright 2021, RepublicanReport.org