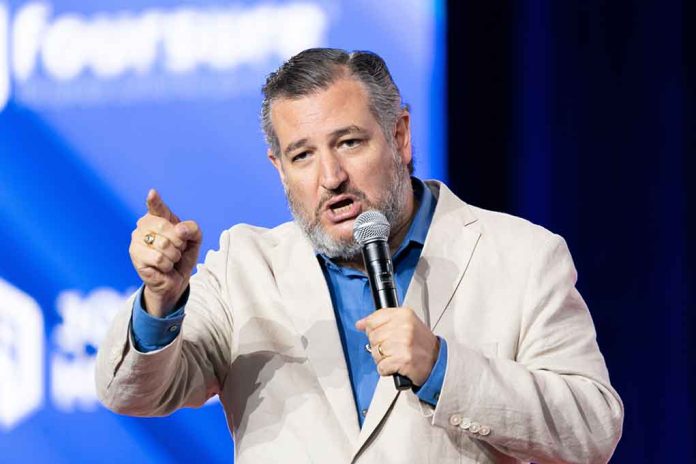 (RepublicanReport.org) – In April, Instagram and TikTok influencer Dylan Mulvaney announced that Bud Light sent her some beer to celebrate day 365 of her womanhood. She also invited her followers to go over to Instagram for a Bud Light promotional event for March Madness. The backlash against the beer company was swift, with some celebrities and Conservatives calling for a boycott of the brand — Mulvaney is transgender. Recently, members of Congress stepped in, demanding Bud Light sever ties with the influencer or face consequences.
On May 17, Senators Ted Cruz (R-TX) and Marsha Blackburn (R-TN) sent a letter to the CEO of Anheuser-Busch, Brendan Whitworth. The executive is also the chairman and senior director of the Beer Institute. In the letter, the lawmakers requested the institute's code compliance review board open an investigation into the relationship between Bud Light and Mulvaney. They allege the pairing violated the entity's code against marketing to people under the legal drinking age.
Ted Cruz is taking a hard look at Bud Lighthttps://t.co/svCtotlqYz

— Daily Caller (@DailyCaller) May 19, 2023
The senators allege that Mulvaney's audience consists of many people under 21 and claim Bud Light targeted that crowd on purpose. Cruz and Blackburn not only want Anheuser-Busch to sever ties but also want a public apology and all company content removed from Mulvaney's platforms. The lawmakers also suggested the beer maker be more careful when choosing brand ambassadors moving forward.
Although the lawmakers didn't offer any evidence of Mulvaney's follower demographic, they used other indications the legislators say shows the influencer's likely audience. The message pointed to specific posts that were allegedly geared toward a younger crowd and said she "clearly presents a faux, pre-pubescent girl persona."
Rather than report on her demographics, the legislators specifically pointed to the age groups prevalent on TikTok and Instagram. They claim 16 to 24-year-olds prefer Instagram, 42% of users on TikTok are 18 to 24, and 17% of TikTok users are 13 to 17. Mulvaney is 26 years old.
Do you think Anheuser-Busch intentionally targeted people under the legal drinking age?
Copyright 2023, RepublicanReport.org