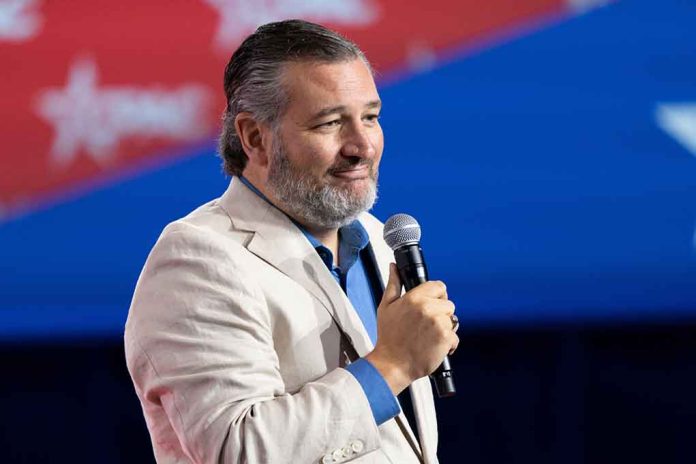 (RepublicanReport.org) – On February 6, The New York Times published an article about Vice President Kamala Harris, claiming the Democratic Party is ready to pounce on her if President Joe Biden doesn't seek another term in 2024. Senator Ted Cruz (R-TX) recently appeared on Fox News' "Jesse Watters Primetime" to discuss his feelings about the article and the political landscape going into the next presidential election.
Cruz noted the Times was who Democrats called when they wanted to bury one another, saying that's what several ambitious left-wingers are currently doing. He then mentioned he believes Biden isn't running in 2024, even going so far as to guarantee it. Cruz claimed that politicians like Senator Elizabeth Warren (D-MA), Governor Gavin Newsom (D-CA), and even the Secretary of Transportation, Pete Buttigieg, were behind the article, claiming they wanted Harris out of the way.
The article Cruz refers to noted that Biden's age is a significant weak point for his reelection; he's already the oldest person to serve as President of the United States. If he chooses to run, that would allow Republicans to use the fact that Harris, who has done very little during her time in the White House, would succeed him if anything were to happen to him.
The president claims to have every intention of running again with Harris at his side. However, many Democrats reportedly feel Biden's second-in-command is inadequate. It's possible some may even be plotting to overtake her if the president doesn't seek another term, as she would likely be the frontrunner for the party's nominee.
John Morgan, a fundraising powerhouse for the Left, said he couldn't think of one positive thing Harris has done as vice president aside from standing next to her boss at signing ceremonies and staying out of Biden's way. According to him, a person doesn't have to be a genius to figure out they need to seriously think about voting for Biden with his age and the risk of him not being able to finish a second term.
Copyright 2023, RepublicanReport.org