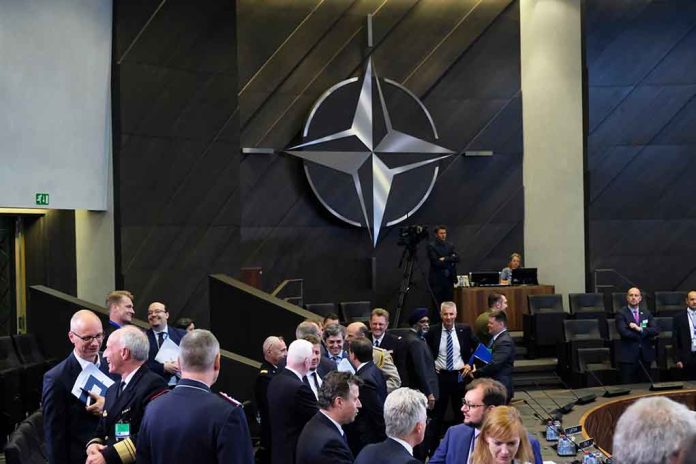 (RepublicanReport.org) – The North Atlantic Treaty Organization (NATO) came into being in 1949 as a means of protection against potential oppression or attacks from the Soviet Union. That Communist bloc is no more, but the Russia that remains is still staunchly opposed to the idea of NATO, and insists its neighbors should not be joining the alliance. Regardless of what the Kremlin wants, however, it appears countries in the region have a real interest in becoming part of NATO.
Are Sweden & Finland Joining Up?
According to a report from the Associated Press on Wednesday, April 13, Sweden and Finland, both of which are members of the European Union, have set plans in motion to join NATO. Sweden has reportedly begun reviewing its options in terms of security policy, while Finland's government has penned a security report for lawmakers to review.
Both nations lie close to Russia; Finland shares over 800 miles of a border with the larger nation, and Sweden is only separated from it by Finland. Russia's invasion of Ukraine, which began in February and is still ongoing, has caused alarm in the region, evidently convincing the hitherto militarily neutral Nordic nations the time to take action to protect themselves has come. Opinion polls in both Finland and Sweden suggest voters are strongly in favor of the prospect of joining NATO, AP News says.
The prime ministers of both Finland and Sweden gave a joint news conference on April 13. Finnish Prime Minister Sanna Marin said her government would wrap up the debate and make a call on whether to join NATO within weeks.
The Broader Geopolitical Context
Ukraine signaling its potential interest in joining NATO was one of the reasons the Kremlin alleged it embarked on its military campaign against its neighbor. According to a report from Marca, Russia's concerns about NATO center around the alleged security threat it poses.
Russia has traditionally claimed former President Mikhail Gorbachev received assurances from alliance leaders NATO would not expand eastwards, toward Russian territory. However, other countries in the region, including Poland, Lithuania, and Romania, did end up joining. NATO currently has 30 members, having started out with just 12. Prior to his decision to invade Ukraine, Russian President Vladimir Putin insisted the military campaign would be justified if he did not receive a guarantee that Ukraine would not end up in the alliance.
After the news came out about Finland and Sweden, Russian security council deputy chairman Dmitry Medvedev announced that Russia would "reinforce" the borders near the Baltic states and Scandinavia. He also suggested nuclear weapon deployments would not be off the table.
Do you think Sweden and Finland will end up in NATO? If they do, what effect do you think that would have on the balance of power in Europe?
Copyright 2022, RepublicanReport.org