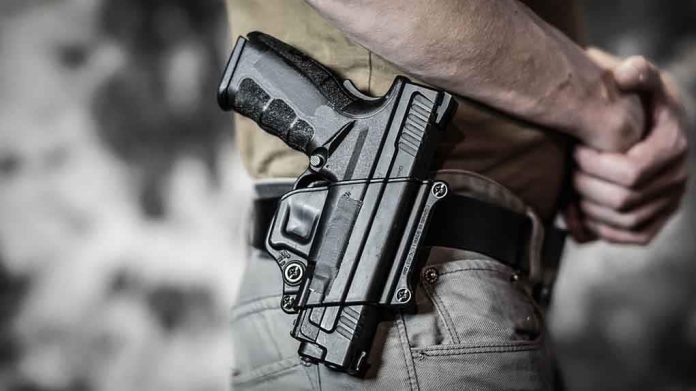 (RepublicanReport.org) – The US Supreme Court (SCOTUS) is in the midst of a hectic term. The nation's highest court has cases dealing with hot-button issues like abortion, capital punishment, and gun control during the coming months. A pivotal case concerning the latter of these is currently underway, and it might result in expanded firearm access for many Americans.
The case is based in New York, one of the strictest states in the nation when it comes to gun control. As it stands at the moment, one needs to have a special reason to apply for a concealed carry permit in the state. The "proper cause" of the law requires some justification beyond general concern for personal safety.
On Wednesday, the Supreme Court debated in a case centered around a century-old New York State law that requires gun owners who want a permit to conceal carry in public to show "proper cause." @devindwyer breaks down the biggest Second Amendment case in over a decade. pic.twitter.com/NKZYJxdjRe

— Start Here – The Daily Podcast from ABC News (@StartHereABC) November 4, 2021
The plaintiffs, in this case, are the New York Rifle & Pistol Association and two other individuals who live in upstate New York. They maintain the restrictions on ordinary New Yorkers when carrying weapons in public are unconstitutional and that the SCOTUS should move to strike them down.
Gun control advocates remain insistent these kinds of measures are necessary to reduce violent crime. However, the statistics show states with gun-friendly constitutional permit laws don't necessarily have a more challenging time dealing with gun violence than in states like New York.
If the SCOTUS decides to strike down New York's law, there could be similar outcomes in six other states with similar rules.
Copyright 2021, RepublicanReport.org