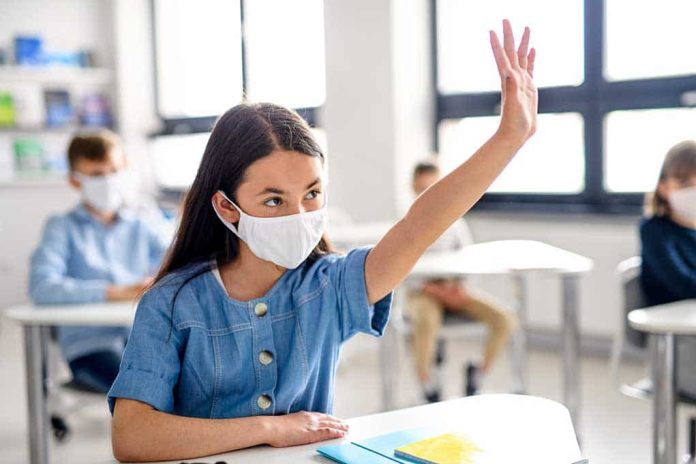 (RepublicanReport.org) – One of the most contentious issues in discussions around the COVID-19 pandemic over the last year or so has been that of masks. Democratic leaders across the country have sought to impose increasingly ludicrous protocols in bizarre attempts at virtue signaling. Remember California Gov. Gavin Newsom's (D) directive to restaurant diners to replace their masks between bites of food?
Going out to eat with members of your household this weekend? Don't forget to keep your mask on in between bites.

Do your part to keep those around you healthy. #SlowtheSpreadhttps://t.co/snYe5v55Rw pic.twitter.com/Y4fcDO5Zke

— Office of the Governor of California (@CAgovernor) October 3, 2020
Now that vaccination rates are climbing, state governments elsewhere are taking steps to put an end to mask mandates. On Wednesday, May 19, Utah's legislature passed a bill prohibiting schools from requiring students to wear face coverings on their premises, starting next academic year. That being said, schools and teachers can still encourage students to wear masks, but they can't mandate it under the bill.
Utah House Majority Assistant Whip Val Peterson (R), who sponsored the bill, said it was about "the mental health of… students."
Texas Gov. Greg Abbott (R) also banned mask requirements in schools and local governments with an executive order on Tuesday. It will be interesting to see if more states now follow suit.
Copyright 2021, RepublicanReport.org