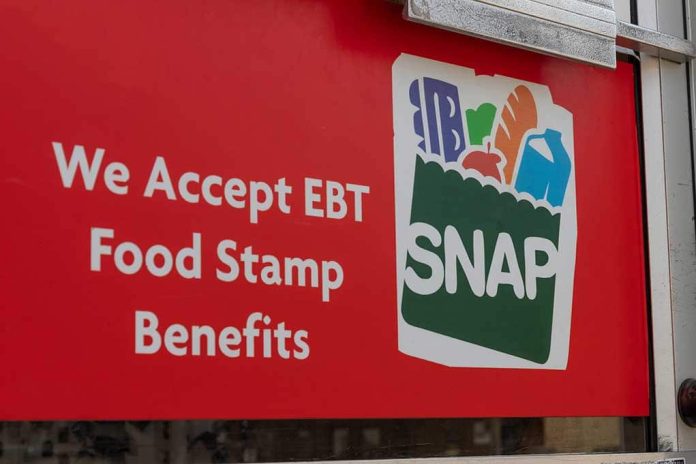 SNAP Benefits Explained — Everything You Need To Know About Food Stamps
(RepublicanReport.org) – Making ends meet can be a challenge at the best of times, particularly if there are a lot of mouths to feed in a family. Luckily, there are various federal government assistance programs that can help if and when the need arises. One important example is the Supplemental Nutrition Assistance Program (SNAP).
What Is SNAP?
The Supplemental Nutrition Assistance Program donates financial help to families struggling to meet their food bills so they can "move towards self-sufficiency." To find out about the specific eligibility requirements that apply to individuals, one should contact the agency responsible for granting and distributing SNAP benefits in the state they live in.
SNAP benefits are only administered through Electronic Benefit Transfer (EBT) cards and can only be used in certain stores and on certain items. This helps to ensure people don't defraud the system by purchasing nonessential items with the funds. The government is currently trying to expand the range of goods that can be bought with EBT cards. For example, one meal delivery service is now allowed to accept EBT payments, which is a departure from the rules in previous times.
Estimates suggest around one in seven American families use SNAP benefits, with that number having increased due to economic difficulties associated with the COVID-19 pandemic.
Recent Changes to SNAP Benefits
Inflation has massively affected the quality of life for Americans in various ways; access to healthy food is one of the most obvious examples. Luckily, the federal government responded to this problem last year by expanding the categories of people who can take advantage of SNAP benefits.
In August 2021, the US Department of Agriculture (USDA) announced an update to SNAP based on the Thrifty Food Plan (TFP). The change marked the first time the agency had adjusted the scheme for inflation since the 1970s, meaning its provisions were badly out of line with the economic realities of America today. As a result, the maximum benefits available under SNAP increased by 21%, and the average benefits per person rose by approximately $1.20 per day. The USDA estimated the change would lift one million children out of poverty.
From now on, the maximum monthly payments for families of four living in the 48 contiguous states and Washington, DC will be $835. In Alaska, the maximum allowance for a family of the same size falls between $1,074 and $1,667, while four-person families in Hawaii will be entitled to a maximum monthly payout of $1,573. The full payment is $1,231 in Guam and $1,074 in the US Virgin Islands.
So, for those struggling to make ends meet and keep food on the table, don't panic. Assistance is available if needed.
Copyright 2022, RepublicanReport.org