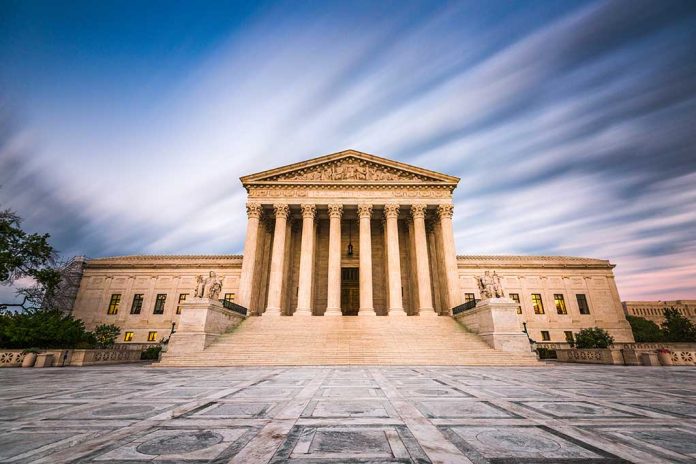 (RepublicanReport.org) – Lawyer Sidney Powell has not stopped fighting against what she believes is a conspiracy against former President Donald Trump. Despite facing ridicule in the media and significant legal troubles, she remains determined to fight for what she thinks. Now, she's offering another new perspective on what happened on January 6.
On Friday, September 24, Powell appeared on the Stew Peters Show to discuss an emergency injunction she and her team were seeking that day while the riot was taking place. The attorneys reportedly sought to prevent the ongoing certification of President Joe Biden's victory by challenging the Electoral Count Act, a piece of legislation that gives both chambers of Congress a role in electing a president following a general election.
The 12th Amendment, as Powell pointed out, only empowers the House of Representatives with regard to choosing a president. The Senate has the job of picking the vice president. Powell was trying to have the Electoral Count Act overturned in favor of the 12th Amendment.
After the riot, House Speaker Nancy Pelosi (D-CA) brought representatives back to the floor to finish tallying the electoral college certification count for Joe Biden. The next day, Justice Samuel Alito dismissed Powell's case because the certification was complete. According to Powell, though, Alito may have ruled differently had the certification not been complete and if Pelosi had not insisted on finishing the count before the justice could hear the case.
This new interview by Powell is interesting. It suggests that the purpose of the insurrection was to DELAY the electoral college certification to give Alito time to intervene on this legal challenge. But, Powell says they didn't anticipate Pelosi reconvening Congress that day. pic.twitter.com/HnmpcOci3Q

— Ron Filipkowski 🇺🇦 (@RonFilipkowski) September 26, 2021
So, did Nancy Pelosi have completing the certification count in mind when she reconvened the House that night?
Copyright 2021, RepublicanReport.org