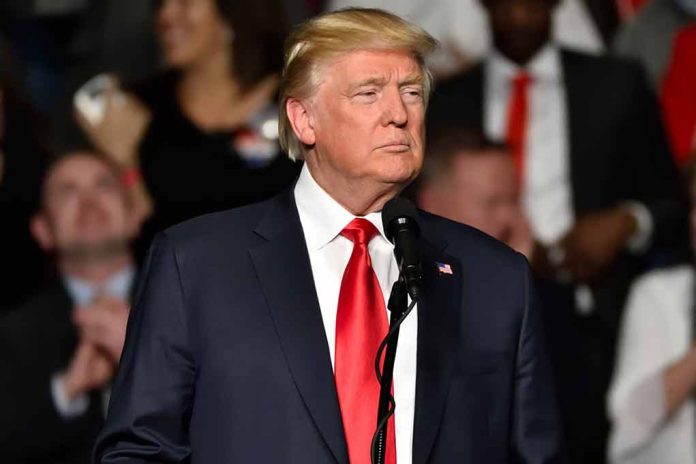 (RepublicanReport.org) – Jenna Ellis, once a valued member of former President Donald Trump's legal team, could turn out to be one the biggest threats in the ongoing criminal probes against him. The 2020 presidential campaign attorney is among the 17 co-defendants accused of attempting to help Trump undermine the state electoral process in Georgia. She recently pleaded not guilty to the counts against her.
Ellis faces charges of soliciting violation of oath by a public officer and violating Georgia's Racketeer Influenced and Corrupt Organizations (RICO) Act. The latter charge would ensure steeper penalties alongside any guilty verdicts by treating the alleged activities as organized crimes. The addition is meant to stress the severity of a set of charges, not work as a bargaining chip for plea deal negotiations, and yet, nearly half of the people charged in the case suddenly have immunity — a clue that they might be negotiating deals.
The relationship between Ellis and Trump has been under question for some time, with the lawyer recently becoming vocal about her support for GOP presidential rival and Florida state governor, Ron DeSantis. She expressed that the Florida leader was Republicans' "only shot" at winning the White House in 2024, according to Newsweek, even though Trump continues to dominate in the national polls.
Ellis' shift in loyalty could cost the lawyer more than she'd bargained for, with some sources insisting Trump is refusing to help with her legal fees because of the betrayal. Another former Trump lawyer, Michael Cohen, believes the former president could be shooting himself in the foot by turning his back on the former ally. Still, when she took to X, the platform formerly known as Twitter, to express what she called a "criminal" act against her in the indictment, Trump supporters labeled her a traitor who didn't deserve their support.
Given the recent developments, some people are concerned Ellis might flip on Trump and cooperate with prosecutors against him.
Copyright 2023, RepublicanReport.org