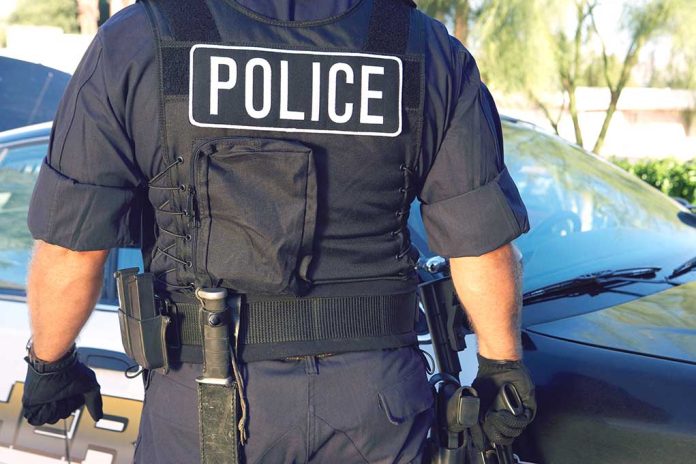 (RepublicanReport.org) – The men and women in law enforcement know that every day they put on their uniform could be their last — a harsh truth for those sworn to serve and protect their communities. Tragedy has struck the law enforcement world as an officer died after suffering a gunshot wound.
According to WTAE, a local news station, police in McKeesport, Pennsylvania, responded to a call about a domestic disturbance around noon on February 6. Dispatch informed officers the person of interest was suffering from a mental crisis episode, and warned that he could be armed and dangerous.
The criminal complaint named 31-year-old Johnathan Jermia Morris as the person in question. Christopher Kearns, Superintendent of Allegheny County Police, explained that two officers, Charles Thomas Jr. and Sean Sluganski, attempted to speak with Morris. However, the suspect walked away from them.
The complaint mentioned the 31-year-old was a veteran and suffering from a PTSD episode. Morris reportedly told two witnesses that police were trying to kill him. The suspect urged the people to film him as he walked down the street. Officers encountered him further down the road, where Morris drew a handgun and fired several shots, striking both Sluganski and Thomas. Both officers were transported to hospitals.
After shooting Thomas and Sluganski, Morris continued down the street, turning a corner where he came face to face with another officer. The suspect attempted to attack the third cop but ended up in a shootout. He was injured during the encounter.
Thomas, who was critically injured, has since been released and is currently recovering. However, Sluganski's injuries proved fatal. Medical personnel pronounced him dead at the hospital. He was 32.
First responders and community members joined in a special procession for the fallen officer as his body was transported from the hospital to the medical examiner's office.
A solemn tribute in lights for fallen McKeesport, PA Police Officer Sean Sluganski, who was shot and killed today at the scene of a domestic violence call. We pray for his family, his seriously injured partner — and fellow officers. We must #NeverForget. pic.twitter.com/AtFtVOYH6D

— Bill Bratton (@CommissBratton) February 7, 2023
Morris is in stable condition and will face several charges, including aggravated assault, criminal homicide, first-degree murder of a law enforcement officer, and others.
Copyright 2023, RepublicanReport.org