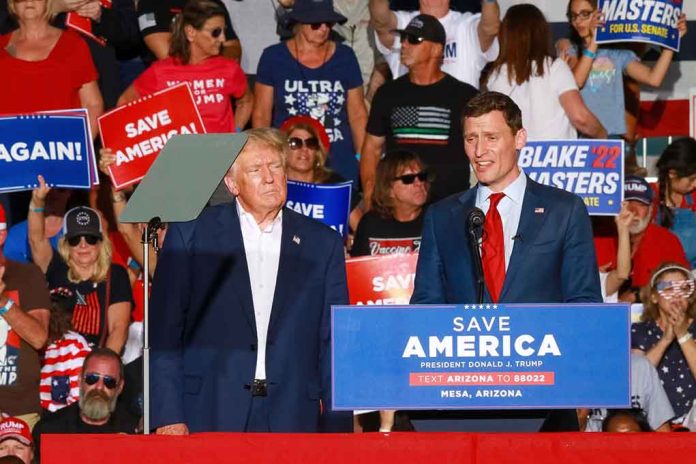 Shocking Race Declared "Toss-Up"
(RepublicanReport.org) – With midterms just a week away, all eyes in the political world turn to the close races that could determine control of the United States Senate. In Arizona, the Democrats thought they had a solid seat in Senator Mark Kelly who was polling far ahead of his challenger, Blake Masters — until last week.
New rating change: #AZSEN moves from Lean D to Toss Up

Read @JessicaTaylor's analysis: https://t.co/iRDDRJSJIw

— Cook Political Report (@CookPolitical) October 27, 2022
On October 27, The Cook Political Report moved the Arizona race from a probable win for the Left to a toss-up. The news caused an immediate stir, with respected outlets such as Forbes and the Wall Street Journal spreading the word. Masters, a staunch conservative who subscribes to the America First political platform, got some advice from former President Donald Trump himself after the report hit the news.
Trump gives a good pep talk. pic.twitter.com/GOEAJDizPA

— Cernovich (@Cernovich) October 25, 2022
In the video, Trump congratulates Masters for a recent debate performance, reminding him to stick with those who hold the same beliefs he does about election fraud. Masters replied that it was great to put Senator Kelly "on the ropes," and promised not to let the voters down. He called out the RINOs in Washington for not believing he could match up against a sitting senator. Trump again reminded him, "he was terrible, you were great."
There was even a bit of fundraising. Trump asked Masters if Peter Thiel, a notorious Republican campaign donor, was helping with funds in the runup to the election. Masters said Thiel has "been great," For a campaign that had little chance just a few months ago, the excitement of the report and the momentum from Trump's call could be just what he needs to push past the finish line ahead of his competitor.
Copyright 2022, RepublicanReport.org