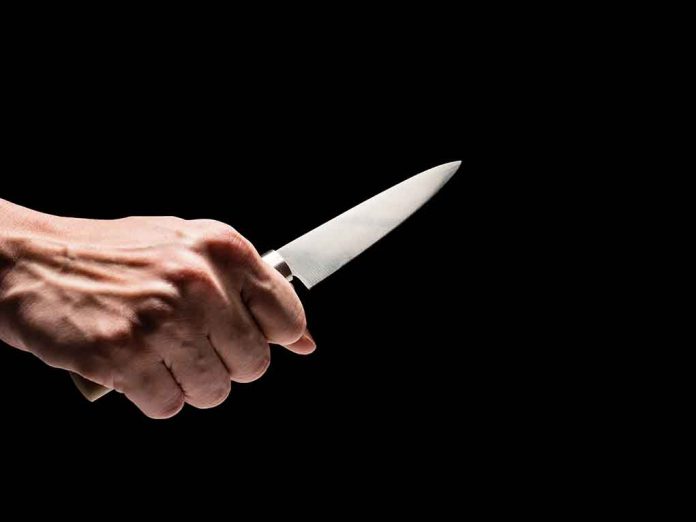 (RepublicanReport.org) – These days, serial killer stories seem to pop up everywhere — in podcasts, on TV, and in movies. Documentaries of grisly deeds on streaming services cover everyone from Charles Manson to Jeffrey Dahmer to John Wayne Gacy. People watch them for different reasons, but when someone becomes obsessed with the genres, it could pose a problem, especially if they use the information relayed in the programs in their own crimes.
On July 17, 2022, serial killer-obsessed mother, Shaye Groves, violently murdered her boyfriend, Frankie Fitzgerald, while he slept. She was found guilty of the killing, and on February 22, the court sentenced her to life in prison — 23 years minimum.
Serial killer fan Shaye Groves jailed for a minimum of 23 years after murdering boyfriend https://t.co/IDt8svAimX

— BBC News (UK) (@BBCNews) February 22, 2023
According to the Daily Mail, the British woman stabbed the father of two more than a dozen times when she discovered he had been messaging a teenager. According to the prosecution, Groves called her friend after the murder and laughed as she showed her his body. The Crown said the defendant used the knowledge she gained from watching and reading about murders to try and establish an alibi, clean up the crime scene, and create a story to justify her actions.
Apparently, Groves edited footage of her and Fitzgerald's intimate moments on tape to make it look like he was abusing and raping her. She then showed it to her friend attempted to create a narrative of abuse. However, the videos were proven false, and the claim of self-defense faded away. It took the Winchester Crown Court only 18 hours to convict the suspect of murder.
The prosecution said Groves wasn't a victim at all but a "manipulative, possessive, and jealous woman" driven to kill her boyfriend in a fit of rage. The Honorable Mr. Justice Tim Kerr said at the defendant's sentencing that he didn't believe she was a "cold-blooded murderer" but believed the slaying was a "crime of passion."
Could her obsession with serial killers have removed her inhibitions about the heinous act?
Copyright 2023, RepublicanReport.org