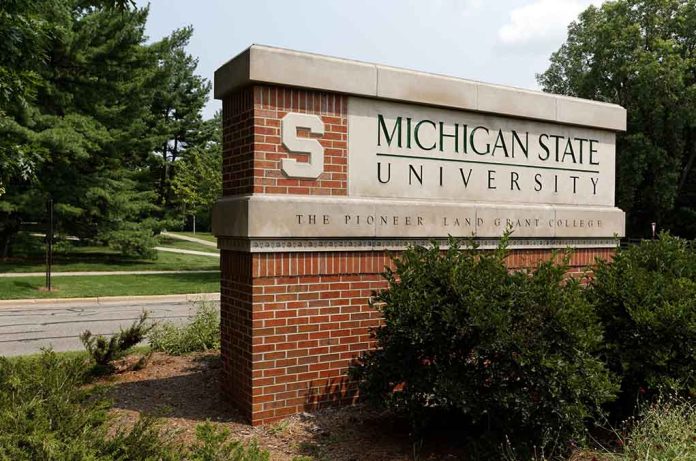 (RepublicanReport.org) – Another school shooting has rattled America after a gunman opened fire on several people at Michigan State University (MSU), leaving three dead and five injured. The suspect wasn't affiliated with the school, and his motive remains unclear. Police later found the shooter dead at an off-campus location.
Chris Rozamn, the MSU interim Police Chief, noted during a press conference that his agency first received a call about the shooter just before 8:30 p.m. on February 13. Rozman mentioned his officers were at the Berkey Hall scene "within minutes," adding that authorities encountered several injured students upon arrival. He then confirmed two of the victims died from their injuries.
Rozman detailed how MSU Police received more calls about another shooting at the university's union building while authorities were dealing with the Berkey scene. Officers from Grand River responded to the scene, where they found another student fatally shot. Rozman confirmed that overall, three people died, and there five were critically injured and hospitalized.
The interim chief then went on to talk about the alleged perpetrator. Rozman noted that authorities discovered the suspect, who they identified as 43-year-old Anthony McRae, around 11:35 p.m., just hours after he took the life of three MSU students. Officers found that McRae was dead of a gunshot wound they believed to be self-inflicted.
Police had initially only identified the shooter as a black male wearing a jean jacket and red shoes and issued photos of him taken from campus security cameras. However, it was enough information for a community member to ID McRae and lead law enforcement to his location in Lansing, Michigan. He was found just 17 minutes after the campus released pictures.
These shootings have become all too common in the US. In 2023, as of February 15, there have been 71 mass casualty events, according to Gun Violence Archive.
Copyright 2023, RepublicanReport.org