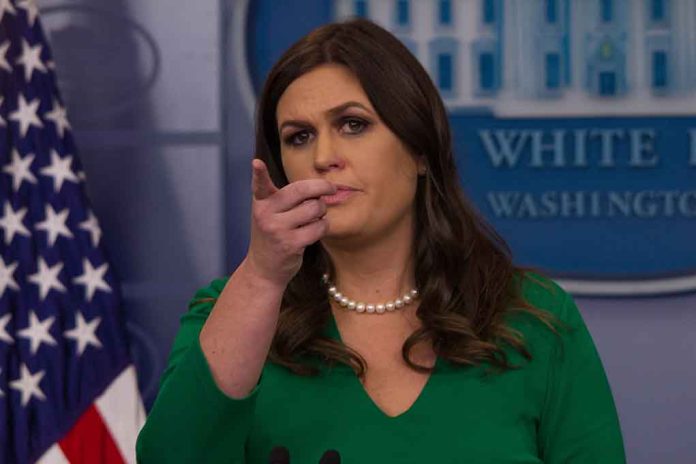 (RepublicanReport.org) – Sarah Huckabee Sanders is well on her way to becoming one of the most recognizable up-and-coming stars in the Republican Party. She's just been sworn in as the governor of Arkansas, making her the youngest current governor in the country and the first woman to occupy the gubernatorial mansion in Arkansas. Sanders first came to national attention when she served as White House press secretary under former President Donald Trump. However, when asked whether she's endorsing his bid to reclaim the White House, she showed reluctance to answer one way or another.
The question came up during an appearance by Sanders on "Fox News Sunday" on January 15. She stated, while she was confident the country would be better off with Trump in charge right now than current President Joe Biden, she wasn't focusing on the presidential election in 2024 just yet. She did not make any indication of whether she was waiting for more candidates to announce their campaigns to decide whom to support.
Instead, Sanders claimed, her focus has been on her own attempt to become governor of Arkansas and her ambitions for the office following her success in this regard. She said she hopes to run for a second term in the office if her first one goes well. However, she would not entertain speculation about whether she might run as a vice-presidential candidate in 2024.
You can appreciate what Donald Trump accomplished and still focus on the political present. ➡️

Sarah Huckabee Sanders Declines To Endorse Trump For President
https://t.co/uDFnCO41Ts

— Janine Curran (@janinereturns) January 15, 2023
Sanders has wasted no time in chasing her goals as governor. Since taking office, she has issued executive orders discontinuing the use of the word "Latinx" in official government documents, banning the instruction of critical race theory (CRT) in Arkansas schools, and ordering the preparation of a report on the state government's cybersecurity capabilities.
If Sanders is reluctant to endorse Trump at this point, does that mean she might be considering backing someone else instead?
Copyright 2023, RepublicanReport.org