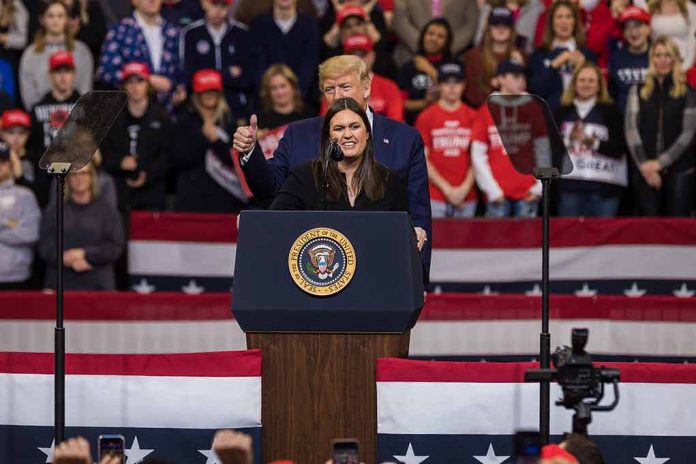 (RepublicanReport.org) – California Governor Gavin Newsom (D) and Arkansas Governor Sarah Huckabee Sanders (R) have never seen eye to eye and often share disparaging comments about the other's state and leadership style. The latest spar came after the West Coast Democrat said his party "should not be on the defense" but rather that Republicans "should be on their heels." The Arkansas GOP leader used Newsom's words to then poke fun at him in her own video.
Back in April, Governor Newsom spoke with former White House Press Secretary turned MSNBC reporter Jen Psaki about the state of our nation and his politics. On top of admitting to the fact he watched Fox News obsessively, he highlighted how many GOP-led states have high rates of murder and a low life expectancy, emphasizing that because of these statistics, Democrats are the ones actually leading America in the right direction.
In response, on July 20, Governor Sanders shared the video of her California counterpart on Twitter, highlighting his quote that he believes his party is the best. However, Sanders' video then cut to a shot of herself walking in white heels overlayed by news clips sharing how around half a million people left Newsom's state of California in the last two years. The footage then revealed that Arkansas was number five on the list of states people moved to in 2022 and 2023. The clip highlighted Sanders' other accomplishments, including a low unemployment rate, $150 million in tax cuts, and some of the most well-paid teachers in the country. At the end, the video joked that Sanders could accomplish "all that in heels," clearly poking fun at Newsom's earlier comment.
As these two politicians go back and forth, it raises the question of what a "leading" state is and which truly shows the nation the best way forward. What states or political leaders do you think are on each other's heels?
Copyright 2023, RepublicanReport.org