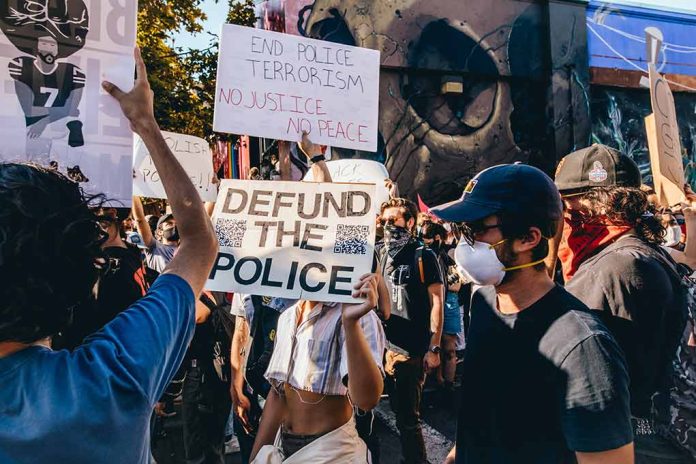 (RepublicanReport.org) – Calls to defund the police echoed across the country in the wake of the 2020 murder of George Floyd. San Francisco Mayor London Breed (D) heeded that demand and quickly announced her decision to cut $120 million from law enforcement officials. However, by the end of 2021, she reversed course and increased funding for the next two years after violent crime rates soared to record highs. Despite her effort to implement a course correction, the city has an unprecedented shortage of cops.
Overall crime rates have fallen by 2.9% year-on-year as of mid-September. However, the incidence of homicides has risen by 11.1%, and robberies saw a 16.7% increase. At the same time those violent crimes are rising, the San Francisco Police Department (SFPD) is spending millions of dollars in overtime annually due to staffing shortages.
Meanwhile, Big Tech companies — a considerable source of tax revenue for the city — have sounded the alarm bells and are urging city officials to do whatever it takes to hire additional police officers.
On September 18, The Daily Wire reported that the SFPD decided to start recruiting candidates from other states than California. That article echoed an earlier X/Twitter post by the department's recruitment office announcing that it was visiting four Texas universities to conduct one day of testing for prospective police recruits.
‼️🚨SFPD IS COMING TO TEXAS🚨‼️

Come join the San Francisco Police Department for ONE DAY TESTING!

For any questions about this event please contact us by phone, email, or DM. Hope you can make it!! #sfpd #joinsfpd #police #sanfrancisco #sf #california #ca pic.twitter.com/2IbL0zJWsp

— SFPD Recruitment (@JoinSFPD) September 6, 2023
Those schools included Texas A&M in Corpus Christi, Prairie View A&M University, Sam Houston State University, and Texas Southern University. True to its word, the SFPD conducted written and physical tests and oral interviews beginning on September 20.
It remains to be seen if the SFPD's recruitment efforts will succeed considering the high cost of living in San Francisco. Tracking companies show that the cost of living in the Bay Area is 76% higher than the national average and 25% higher than the California average. Putting that figure in context, Best Place's latest analysis shows that overall, San Francisco's living cost is 155.5% higher than in Houston. Alarmingly, the cost of housing for homeowners is 643.4% more.
Copyright 2023, RepublicanReport.org