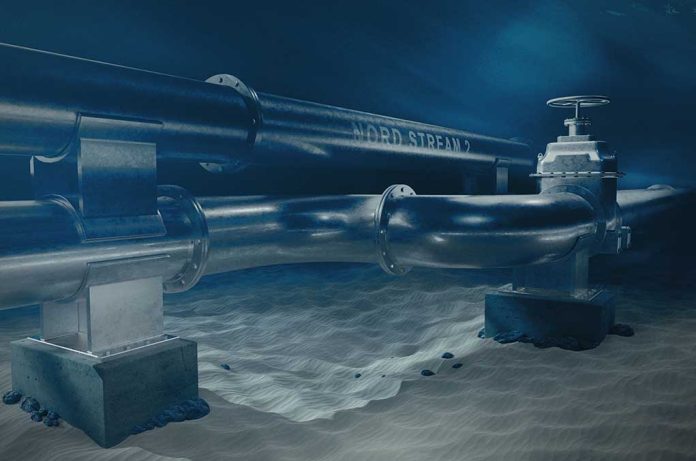 Nord Stream Gas Line Breakage Leads to Accusations of Sabotage
(RepublicanReport.org) – As the war between Russia and Ukraine has progressed, one of the major concerns has been around the Nord Stream pipelines that carry gas from Russia to central Europe. These worries escalated earlier this week when it emerged both pipelines were leaking. There's evidence to suggest these may have come about due to sabotage. Some have placed the blame on Russia, although officials in Moscow vehemently deny any involvement.
The Leak
News of the issues with the pipelines first broke in the early hours of Monday morning, following reports of an explosion near the Danish island of Bornholm.
According to the BBC, Denmark's Energy Minister, Dan Jorgensen, said the leaks will probably persist until the gas in the pipelines is gone. Estimates suggest it will take a week from the time the spillages began.
There are major concerns about the environmental impact of the leak. The methane gas that escaped from the pipelines could cause serious harm, according to experts in the field. According to a CNBC report, climate scientists said that if the leak was caused deliberately, it would constitute an "environmental crime."
According to Moscow, the pipelines have not carried gas to Europe for a number of months due to technical issues. However, EU leaders believe Russia has halted the supply on purpose in retaliation for sanctions against it related to the war in Ukraine.
What Are the Politicians Saying?
Bodies monitoring seismic activity in Finland, Sweden, and Norway all recorded explosions in the region around the time the leaks began. Swedish authorities have rejected the idea the disturbance was the result of an earthquake and have begun investigating the matter as sabotage.
Following an initial unwillingness on the part of global leaders to lay the blame at Russia's doorstep, two German lawmakers came forward on Tuesday to suggest Moscow was responsible. Roderich Kiesewetter, who represents Berlin on issues related to crisis prevention, stated it was sabotage, and that Russia was behind it, according to a Tweet.
Marie-Agnes Strack-Zimmermann, who heads the German government's committee on defense, also expressed her belief that Russia was at fault during her appearance on a national media station.
In the United States, former CIA Director John Brennan stated on CNN that the situation had apparently resulted from a deliberate act, pointing to Russia as the most likely culprit.
Russian officials have consistently refused to accept responsibility for any involvement. Notably, Bloomberg reported that President Joe Biden called the incident a "deliberate act of sabotage," but didn't suggest that Russia was involved. National Security Adviser Jake Sullivan also refused to point any fingers, saying he believes it's too early to make assumptions about how the incident occurred or who caused it.
Do you think Russia was behind these leaks? If so, what do you think would be an appropriate course of action for Western leaders?
Copyright 2022, RepublicanReport.org